American Indian Stories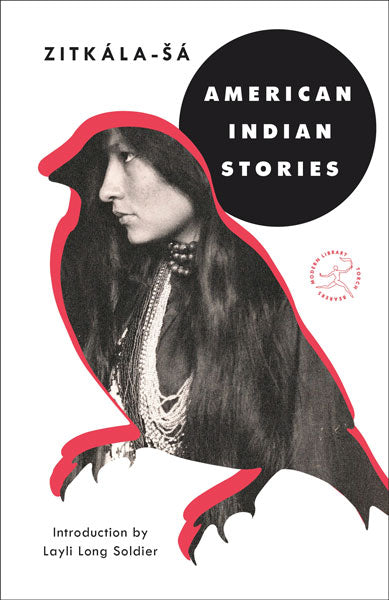 American Indian Stories
Paperback
Modern Library (2019)
SKU: 9781984854216
Regular price
$15.00
$15.00
A groundbreaking Dakota author and activist chronicles her refusal to assimilate into nineteenth-century white society and her mission to preserve her culture—with an introduction by Layli Long Soldier, winner of the National Book Critics Circle Award and the PEN/Jean Stein Book Award for Whereas.
Bright and carefree, Zitkála-Sá grows up on the Yankton Sioux reservation in South Dakota with her mother until Quaker missionaries arrive, offering the reservation's children a free education. The catch: They must leave their parents behind and travel to Indiana. Curious about the world beyond the reservation, Zitkála-Sá begs her mother to let her go—and her mother, aware of the advantages that an education offers, reluctantly agrees.
But the missionary school is not the adventure that Zitkála-Sá expected: The school is a strict one, her long hair is cut short, and only English is spoken. She encounters racism and ridicule. Slowly, Zitkála-Sá adapts to her environment—excelling at her studies, winning prizes for essay-writing and oration. But the price of success is estrangement from her cultural roots—and is it one she is willing to pay?
Combining Zitkála-Sá's childhood memories, her short stories, and her poetry, American Indian Stories is the origin story of an activist in the making, a remarkable woman whose extraordinary career deserves wider recognition.