Earth Keeper: Reflections on the American Land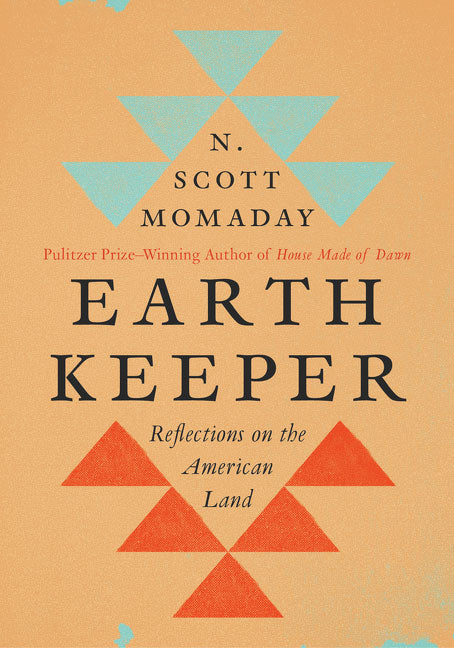 Earth Keeper: Reflections on the American Land
Hardcover
Harper (2020)
SKU: 9780063009332
Regular price
$17.99
$17.99
"Earth Keeper is a prayer for continuity in these days of uncertainty. I cannot tell you why I loved this book, I can only tell you I wept my way through it. Each page brought me closer to myself, a self I had lost in the pandemic. We need Scott Momaday's calm, clear prose and stories. Words are medicine. There is wisdom in sharing what one knows, especially at a time when we know so little. 'Let me say my heart, ' he says. And he does." — Terry Tempest Williams, author of Erosion: Essays of Undoing
A beautifully written and poignant tribute to the Earth, from Pulitzer Prize-winning novelist and poet N. Scott Momaday.
One of the most distinguished voices in American letters, N. Scott Momaday has devoted much of his life to celebrating and preserving Native American culture, especially its oral tradition. A member of the Kiowa tribe who was born and grew up on Indian reservations throughout the Southwest, Momaday has an intimate connection to the land he knows well and loves deeply.
In Earth Keeper: Reflections on the American Land, he reflects on his native ground and its influence on his people. "When I think about my life and the lives of my ancestors, I am inevitably led to the conviction that I, and they, belong to the American land. This is a declaration of belonging. And it is an offering to the earth." he writes.
Momaday recalls stories of his childhood, stories that have been passed down through generations, stories that reveal a profound and sacred connection to the American landscape and a reverence for the natural world.
In this moving and lyrical work, he offers an homage and a warning. Momaday reminds us that the Earth is a sacred place of wonder and beauty; a source of strength and healing that must be protected before it's too late. As he so eloquently yet simply expresses, we must all be keepers of the Earth.