Little Big Bully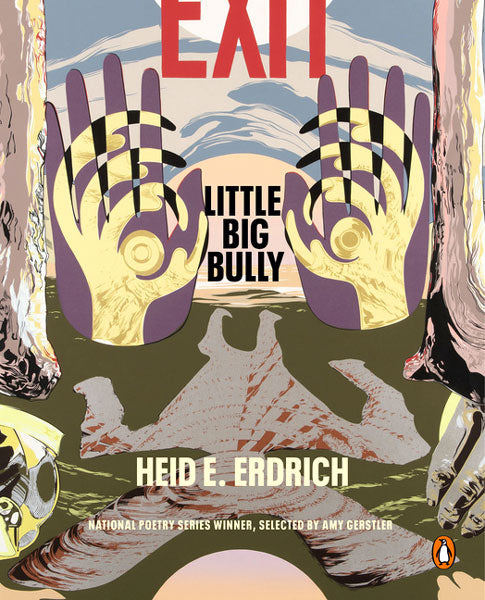 Little Big Bully
Paperback
Penguin Books (2020)
SKU: 9780143135920
Regular price
$20.00
$20.00
"A major collection by a writer who deserves an audience a big as the light she's throwing off . . . Little Big Bully cycl[es] into private moments, public grief, purposefully erased history and Native politics. [Erdrich] finds ways to still chevron the mind sky with wonder . . . The improvisational torque of Little Big Bully means the book is always moving, into imagined story cycles, love poems, riffs, prose poems so vital it feels like they've burst free of punctuation, rather than eschewed it for style." —LitHub, "Most Anticipated Books of 2020"
"Little Big Bully holds itself with a steady gaze, feet shoulder width apart. Positioned and ready, it is unflinchingly honest. Traversing a wide landscape—both the personal interior and social exterior—this book is made to confront, without the usual trappings of confrontation. How is that possible? There are 'conversations' to address concerns familiar to the Native community, specifically; at other times, poems directly address non-Native readers and public consciousness. Along the way, Erdrich connects the global project of colonialism with the feminine, the woman's body, the woman's experience, the 'bloody burning work' of her negation and violation. It's seamless. All this, and still, this book holds in its heart the limitless expanse of love and tenderness, and honestly so. Erdrich writes, 'This is not my grief [...] but a terrible a particular / deep beyond belief / deep enough / to own its depth / to be depth alone.' Through Erdrich, I have come to understand that it's not her grief, but ours, shared. Experienced together beyond belief." —Layli Long Soldier, author of Whereas
In a new collection that is "a force of nature" (Amy Gerstler), renowned poet Heid E. Erdrich applies her rich inventive voice and fierce wit to the deforming effects of harassment and oppression.
Little Big Bully begins with a question asked of a collective and troubled we - how did we come to this? In answer, this book offers personal myth, American and Native American contexts, and allegories driven by women's resistance to narcissists, stalkers, and harassers. These poems are immediate, personal, political, cultural, even futuristic object lessons. What is truth now? Who are we now? How do we find answers through the smoke of human destructiveness? The past for Indigenous people, ecosystem collapse from near-extinction of bison, and the present epidemic of missing and murdered Indigenous women underlie these poems. Here, survivors shout back at useless cautionary tales with their own courage and visions of future worlds made well.