Translated Nation: Rewriting the Dakhóta Oyáte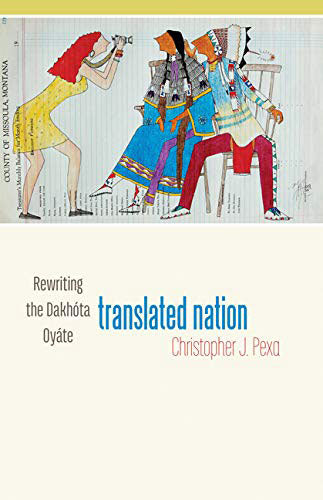 Translated Nation: Rewriting the Dakhóta Oyáte
Paperback
University of Minnesota Press (2019)
SKU: 9781517900717
Regular price
$25.00
$25.00
How authors rendered Dakhóta philosophy by literary means to encode ethical and political connectedness and sovereign life within a settler surveillance state.
Translated Nation examines literary works and oral histories by Dakhóta intellectuals from the aftermath of the 1862 U.S.-Dakota War to the present day, highlighting creative Dakhóta responses to violences of the settler colonial state. Christopher Pexa argues that the assimilation era of federal U.S. law and policy was far from an idle one for the Dakhóta people, but rather involved remaking the Oyáte (the Océti Sakówi? Oyáte or People of the Seven Council Fires) through the encrypting of Dakhóta political and relational norms in plain view of settler audiences.
From Nicholas Black Elk to Charles Alexander Eastman to Ella Cara Deloria, Pexa analyzes well-known writers from a tribally centered perspective that highlights their contributions to Dakhóta/Lakhóta philosophy and politics. He explores how these authors, as well as oral histories from the Spirit Lake Dakhóta Nation, invoke thióspaye (extended family or kinship) ethics to critique U.S. legal translations of Dakhóta relations and politics into liberal molds of heteronormativity, individualism, property, and citizenship. He examines how Dakhóta intellectuals remained part of their social frameworks even while negotiating the possibilities and violence of settler colonial framings, ideologies, and social forms. Bringing together oral and written as well as past and present literatures, Translated Nation expands our sense of literary archives and political agency and demonstrates how Dakhóta peoplehood not only emerges over time but in everyday places, activities, and stories. It provides a distinctive view of the hidden vibrancy of a historical period that is often tied only to Indigenous survival.