When It Rains: Tohono O'Odham and Pima Poetry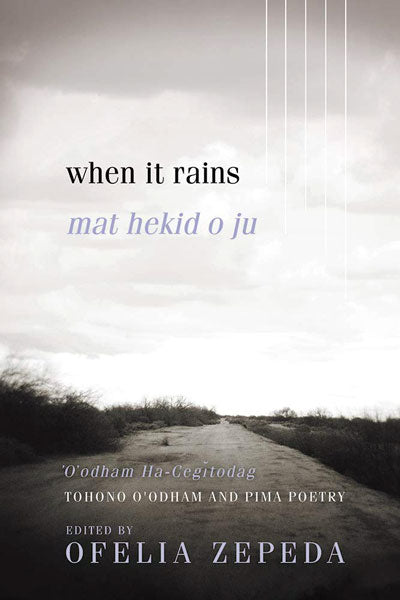 When It Rains: Tohono O'Odham and Pima Poetry
Paperback
University of Arizona Press (2019)
SKU: 9780816538874
Regular price
$12.95
$12.95
When it was first released in 1982, When It Rains was one of the earliest published literary works in the O'odham language. Speakers from across generations shared poems that showcased the aesthetic of the written word and aimed to spread interest in reading and writing in O'odham.
The poems capture brief moments of beauty, the loving bond between family members, and a deep appreciation of Tohono O'odham culture and traditions, as well as reverent feelings about the landscape and wildlife native to the Southwest. A motif of rain and water is woven throughout the poetry in When It Rains, tying in the collection's title to the importance of this life-giving and sustaining resource to the Tohono O'odham people. With the poems in both O'odham and English, the volume serves as an important reminder of the beauty and changeability of the O'odham language.
The themes and experiences expressed by the language educators in this volume capture still-rural community life: children are still bussed for miles to school, and parents still have hours-long daily commutes to work. The Sonoran Desert also remains an important part of daily life—seasons, rain on desert plants, and sacred mountains serve as important markers.
In a new foreword to the volume, Sun Tracks editor Ofelia Zepeda reflects on how meaningful this volume was when it was first published and its continued importance. "Things have changed but many things remain the same," writes Zepeda. "The pieces in this collection will be meaningful to many still."