The Turtle's Beating Heart: One Family's Story of Lenape Survival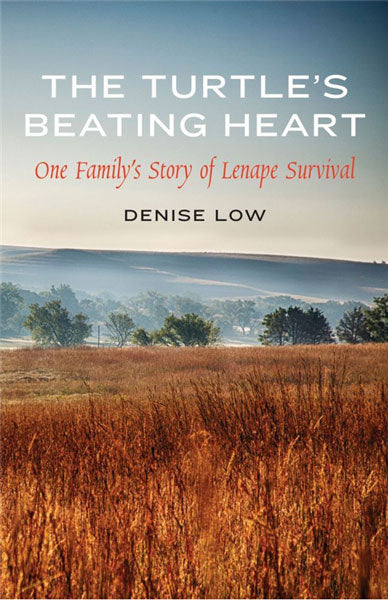 The Turtle's Beating Heart: One Family's Story of Lenape Survival
Hardcover
Bison Books (2017)
SKU: 9780803294936
Regular price
$34.95
$34.95
"Grandchildren meet their grandparents at the end," Denise Low says, "as tragic figures. We remember their decline and deaths. . . . The story we see as grandchildren is like a garden covered by snow, just outlines visible."
Low brings to light deeply held secrets of Native ancestry as she recovers the life story of her Kansas grandfather, Frank Bruner (1889-1963). She remembers her childhood in Kansas, where her grandparents remained at a distance, personally and physically, from their grandchildren, despite living only a few miles away. As an adult, she comes to understand her grandfather's Delaware (Lenape) legacy of persecution and heroic survival in the southern plains of the early 1900s, where the Ku Klux Klan attacked Native people along with other ethnic minorities. As a result of such experiences, the Bruner family fled to Kansas City and suppressed their non-European ancestry as completely as possible. As Low unravels this hidden family history of the Lenape diaspora, she discovers the lasting impact of trauma and substance abuse, the deep sense of loss and shame related to suppressed family emotions, and the power of collective memory.
Low traveled extensively around Kansas, tracking family history until she understood her grandfather's political activism and his healing heritage of connections to the land. In this moving exploration of her grandfather's life, the former poet laureate of Kansas evokes the beauty of the Flint Hills grasslands, the hardships her grandfather endured, and the continued discovery of his teachings.
"An engagingly written mix of research, reportage, and memoir, infused with the passion of discovery."—-Kirkus
"Low does Americans with Indian ancestry a valuable service by illuminating the unique and often terrible circumstances and choices their forebears faced." —-Pamela Miller, Star Tribune
"The Turtle s Beating Heart pierces the veil of anonymity and mystery surrounding [Denise Low's] Delaware grandfather. As she examines his life and times, she not only discovers much about his identity; she also learns a great deal about herself and the rest of her family and other Delaware-descended people. . . . As she learns, so, too, does the fortunate reader."—-Geary Hobson, professor of English and Native American Literatures at the University of Oklahoma
"In this important book, Low speaks powerfully and poignantly of the plight of mixed-blood families plagued by once-justified fear and its resultant secrecy and the troubling confusion and aching absence this leaves for the grand- and great-grandchildren." ——-Linda Rodriguez, author of Every Broken Trust and Heart's Migration.