Plastic Indian: A Collection of Stories and Other Writings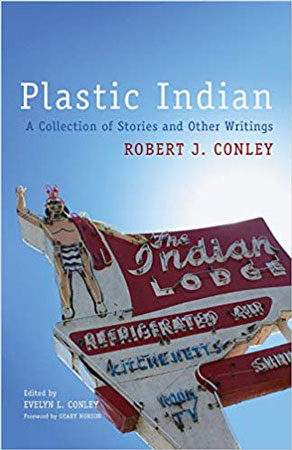 Plastic Indian: A Collection of Stories and Other Writings
Paperback
University of Oklahoma Press (2018)
SKU: 9780806161518
Regular price
$19.95
$19.95
"No writer, Native or otherwise, understood Cherokee history better than Robert J. Conley. He was always able to breathe life into his characters in a particularly vivid way. His outlaws and lawmen, heroes and villains are always memorable and never one-dimensional. Every story in Plastic Indian is satisfying and complete."— Joseph Bruchac
"So what does it mean to be a Cherokee?" asks Cherokee author Robert J. Conley at the start of this delightful collection of his writings. Throughout his prolific career, Conley used his art to explore Cherokee identity and experience. With his passing in 2014, Native American literature—and American literature in general—lost a major voice. Fortunately, this posthumous publication, edited by the author's wife, Evelyn L. Conley, offers readers the opportunity to appreciate anew the blend of humor, candor, and creativity that makes his work so exceptional.
Best known as a novelist, especially for his beloved Real People series, Conley was also a masterful writer of short stories, essays, plays, and speeches. The breadth of his talents is on full display in this wide-ranging collection, which begins with his very last public address, delivered in North Carolina in 2013. Following that speech, the reader is treated to what may be Conley's most famous short story, Plastic Indian, the hilarious tale of three Cherokee youths who try to take down a giant plastic Indian located along Highway 51 between Tahlequah and Tulsa.
Like many of Conley's works, Plastic Indian is set in contemporary times, but as we discover through the stories that follow, the author drew inspiration from traditional Cherokee folktales and oral storytelling. His delight in the spoken word is evident in the single play featured in this volume, based on the writings of ethnographer James Mooney and originally performed for radio.
Conley is also celebrated for his accurate depictions of the Old West (it is no accident that he was the first American Indian president of the distinguished Western Writers of America association), so the collection would not be complete without two of his cowboy stories, namely "The Execution" and "Nate's Revenge."
The volume concludes with four of the author's speeches. Laced with the author's typical dry humor, these personal testimonies serve as a moving coda to the author's extensive and illustrious career.