Ojibwe Stories from the Upper Berens River: A. Irving Hallowell and Adam Bigmouth in Conversation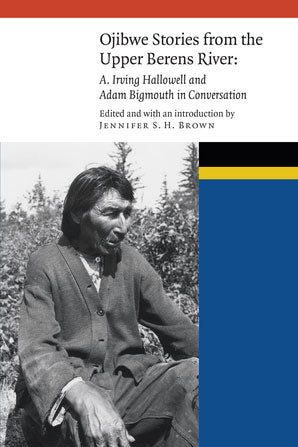 Ojibwe Stories from the Upper Berens River: A. Irving Hallowell and Adam Bigmouth in Conversation
Hardcover
University of Nebraska Press (2018)
SKU: 9781496202253
Regular price
$50.00
$50.00
In Ojibwe Stories from the Upper Berens River Jennifer S. H. Brown presents the dozens of stories and memories that A. Irving Hallowell recorded from Adam (Samuel) Bigmouth, son of Ochiipwamoshiish (Northern Barred Owl), at Little Grand Rapids in the summers of 1938 and 1940. The stories range widely across the lives of four generations of Anishinaabeg along the Berens River in Manitoba and northwestern Ontario.
In an open and wide-ranging conversation, Hallowell discovered that Bigmouth was a vivid storyteller as he talked about the eight decades of his own life and the lives of his father, various relatives, and other persons of the past. Bigmouth related stories about his youth, his intermittent work for the Hudson's Bay Company, the traditional curing of patients, ancestral memories, encounters with sorcerers, and contests with cannibalistic windigos. The stories also tell of vision-fasting experiences, often fraught gender relations, and hunting and love magic—all in a region not frequented by Indian agents and little visited by missionaries and schoolteachers.
With an introduction and rich annotations by Brown, a renowned authority on the Upper Berens Anishinaabeg and Hallowell's ethnography, Ojibwe Stories from the Upper Berens River is an outstanding primary source for both First Nations history and the oral literature of Canada's Ojibwe peoples.