My Grandfathers Knocking Sticks: Ojibwe Family Life and Labor on the Reservation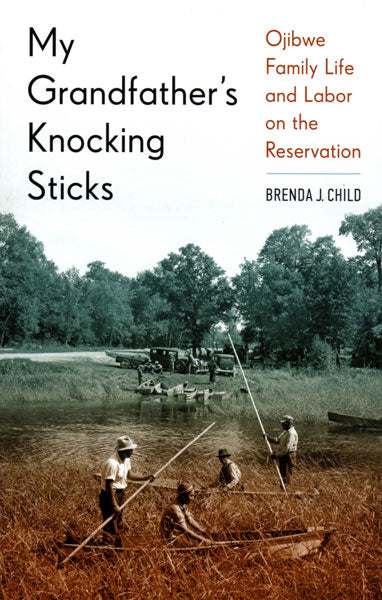 My Grandfathers Knocking Sticks: Ojibwe Family Life and Labor on the Reservation
Paperback
Minnesota Historical Society Press (2014)
SKU: 9780873519243
Regular price
$19.95
$19.95
When Ojibwe historian Brenda Child uncovered the Bureau of Indian Affairs file on her grandparents, it was an eye-opening experience. The correspondence, full of incendiary comments on their morals and character, demonstrated the breathtakingly intrusive power of federal agents in the early twentieth century.
While telling her own family's stories from the Red Lake Reservation, as well as stories of Ojibwe people around the Great Lakes, Child examines the disruptions and the continuities in daily work, family life, and culture faced by Ojibwe people of Child's grandparents' generation—a generation raised with traditional lifeways in that remote area. The challenges were great: there were few opportunities for work. Government employees and programs controlled reservation economies and opposed traditional practices. Nevertheless, Ojibwe men and women—fully modern workers who carried with them rich traditions of culture and work—patched together sources of income and took on new roles as labor demands changed through World War I and the Depression.
Child writes of men knocking rice at wild rice camps, work customarily done by women; a woman who turns to fishing and bootlegging when her husband is unable to work; and women who carry out traditional healing ceremonies. All of them, faced with dispossession and pressure to adopt new ways, managed to retain and pass on their Ojibwe identity and culture to their children.