Life of the Indigenous Mind: Vine Deloria Jr. and the Birth of the Red Power Movement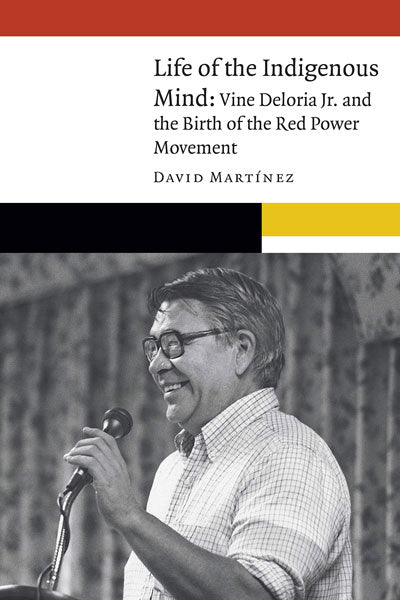 Life of the Indigenous Mind: Vine Deloria Jr. and the Birth of the Red Power Movement
Hardcover
University of Nebraska Press (2019)
SKU: 9781496211903
Regular price
$75.00
$75.00
In Life of the Indigenous Mind David Martínez examines the early activism, life, and writings of Vine Deloria Jr. (1933-2005), the most influential indigenous activist and writer of the twentieth century and one of the intellectual architects of the Red Power movement. An experienced activist, administrator, and political analyst, Deloria was motivated to activism and writing by his work as executive director of the National Congress of American Indians, and he came to view discourse on tribal self-determination as the most important objective for making a viable future for tribes.
In this work of both intellectual and activist history, Martínez assesses the early life and legacy of Deloria's "Red Power Tetralogy," his most powerful and polemical works: Custer Died for Your Sins (1969), We Talk, You Listen (1970), God Is Red (1973), and Behind the Trail of Broken Treaties (1974). Deloria's gift for combining sharp political analysis with a cutting sense of humor rattled his adversaries as much as it delighted his growing readership.
Life of the Indigenous Mind reveals how Deloria's writings addressed Indians and non-Indians alike. It was in the spirit of protest that Deloria famously and infamously confronted the tenets of Christianity, the policies of the Bureau of Indian Affairs, and the theories of anthropology. The concept of tribal self-determination that he initiated both overturned the presumptions of the dominant society, including various "Indian experts," and asserted that tribes were entitled to the rights of independent sovereign nations in their relationship with the United States, be it legally, politically, culturally, historically, or religiously.