Genocidal Love: A Life After Residential School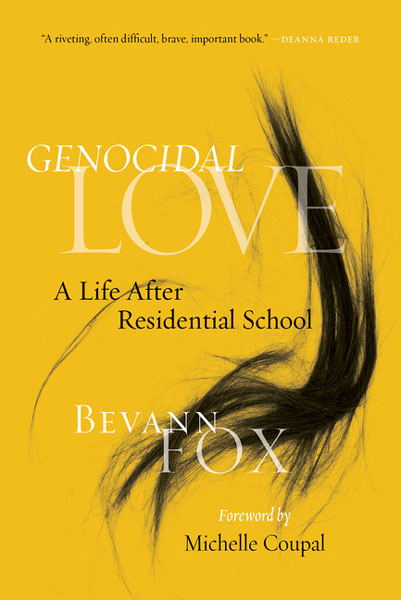 Genocidal Love: A Life After Residential School
Paperback
University of Regina Press (2020)
SKU: 9780889777415
Regular price
$17.95
$17.95
Genocidal Love delves into the long-term effects of childhood trauma on those who attended residential school and demonstrates the power of story to help in recovery and healing.
Presenting herself as "Myrtle," Bevann Fox recounts her early childhood filled with love and warmth on the First Nation reservation with her grandparents. At the age of seven she was sent to residential school, and her horrific experiences of abuse there left her without a voice, timid and nervous, never sure, never trusting, and always searching.
This is the story of Myrtle battling to recover her voice.
This is the story of her courage and resilience throughout the arduous process required to make a claim for compensation for the abuse she experienced at residential school—a process that turned out to be yet another trauma at the hands of the colonial power.
This is the story of one woman finally standing up to the painful truth of her past and moving beyond it for the sake of her children and grandchildren. In recounting her tumultuous life, Fox weaves truth and fiction together as a means of bringing clarity to the complex emotions and situations she faced as she walked her path toward healing.