Dakota Women's Work: Creativity, Culture, and Exile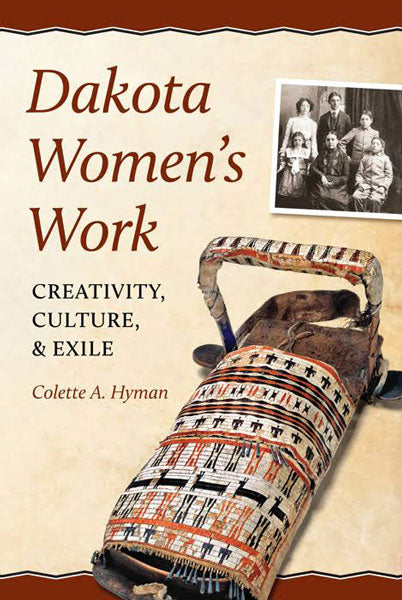 Dakota Women's Work: Creativity, Culture, and Exile
Paperback
Minnesota Historical Society Press (2012)
SKU: 9780873518505
Regular price
$19.95
$19.95
A tiny pair of beaded deerskin moccasins, given to a baby in 1913, provides the starting point for this thoughtful examination of the work of Dakota women. Mary Eastman Faribault, born in Minnesota, made them almost four decades after the U.S. Dakota War of 1862. This and other ornately decorated objects created by Dakota women cradleboards, clothing, animal skin containers served more than a utilitarian function. They tell the story of colonization, genocide, and survival.
Author Colette Hyman traces the changes in the lives of Dakota women, starting before the arrival of whites and covering the fur trade, the years of treaties and shrinking lands, the brutal time of removal, starvation, and shattered families after 1862 and then the transition to reservation life, when missionaries and government agents worked to turn the Dakota into Christian farmers. The decorative work of Dakota women reflected all of this: native organic dyes and quillwork gave way to beading and needlework, items traditionally decorated for family gifts were produced to sell to tourists and white collectors, work on cradleboards and animal skin bags shifted to the ornamenting of hymnals and the creation of star quilts.
Through it all, the work of Dakota women proclaims and retains Dakota identity: it is a testament to the endurance of Dakota traditions, to the survival of the Dakota in exile, and most vividly to the role of women in that survival.
Colette A. Hyman teaches history and women s studies at Winona State University. She is the author of Staging Strikes: Workers Theatre and the American Labor Movement.