Bury My Heart at Chuck E. Cheese's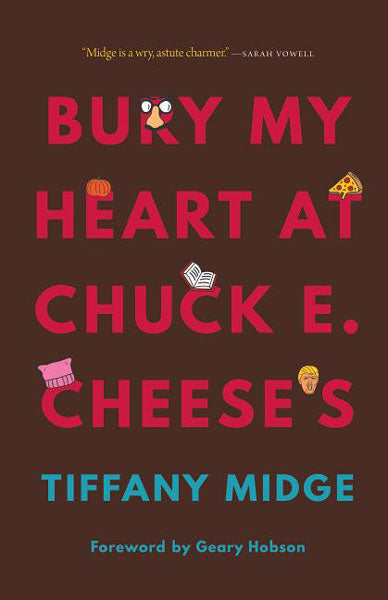 Bury My Heart at Chuck E. Cheese's
Paperback
Bison Books (2021)
SKU: 9781496224934
Regular price
$19.95
$19.95
Why is there no Native woman David Sedaris? Or Native Anne Lamott? Humor categories in publishing are packed with books by funny women and humorous sociocultural-political commentary—but no Native women. There are presumably more important concerns in Indian Country. More important than humor? Among the Diné/Navajo, a ceremony is held in honor of a baby's first laugh. While the context is different, it nonetheless reminds us that laughter is precious, even sacred.
Bury My Heart at Chuck E. Cheese's is a powerful and compelling collection of Tiffany Midge's musings on life, politics, and identity as a Native woman in America. Artfully blending sly humor, social commentary, and meditations on love and loss, Midge weaves short, stand-alone musings into a memoir that stares down colonialism while chastising hipsters for abusing pumpkin spice. She explains why she does not like pussy hats, mercilessly dismantles pretendians, and confesses her own struggles with white-bread privilege.
Midge goes on to ponder Standing Rock, feminism, and a tweeting president, all while exploring her own complex identity and the loss of her mother. Employing humor as an act of resistance, these slices of life and matchless takes on urban-Indigenous identity disrupt the colonial narrative and provide commentary on popular culture, media, feminism, and the complications of identity, race, and politics.
"Bury My Heart at Chuck E. Cheese's drives a spear into the stereotype of Native American stoicism. It is perhaps the funniest nonfiction collection I have ever read. But it is much more than funny: it is moving, honest, and painful as well, and looks at the absurdities of modern America. Midge's collection is so good it could raise Iron Eyes Cody from the grave and make him laugh till he cries."—David Treuer, author of The Heartbeat of Wounded Knee