Black Bears & Blueberries (Dakota Version)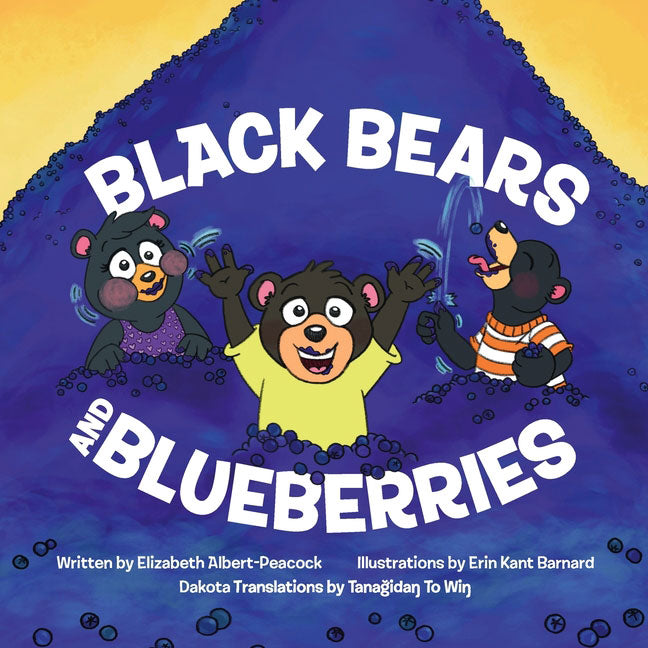 Black Bears & Blueberries (Dakota Version)
Illustrated by Erin Kant Barnard
Paperback
Black Bears & Blueberries (2023)
SKU: 9798986298191
Regular price
$11.95
$11.95
A fun, fun, beautifully illustrated story about two grandparent bears and their grandchildren, and their animal friends. Introduces some Dakota animal words.
Dakota translations by Tanaǧidaŋ To Wiŋ.
Nana and Papa Bear are excited to have their grandkids come to visit. The story follows the family on various outdoor activities such as fishing, swimming, blueberry picking, and hazelnut gathering. After their adventures, the family prepares a feast for dinner, with Nana and granddaughter Jordyn making blueberry pancakes, muffins, and jam, while Papa and the boys clean the fish and roast hazelnuts. The family invites their neighbors to join in the feast, and everyone brings food to share, including beaver with clams and squirrels with nuts. Before the feast, the animals thank the Creator and offer a spirit plate to the spirits, and everyone leaves happy and full. Jordyn and the boys carry jars of jam and honey home, while Boogidi the skunk.... The story teaches the values of kindness, sharing, and gratitude towards nature and community.