Becoming Catawba: Catawba Indian Women and Nation-Building, 1540-1840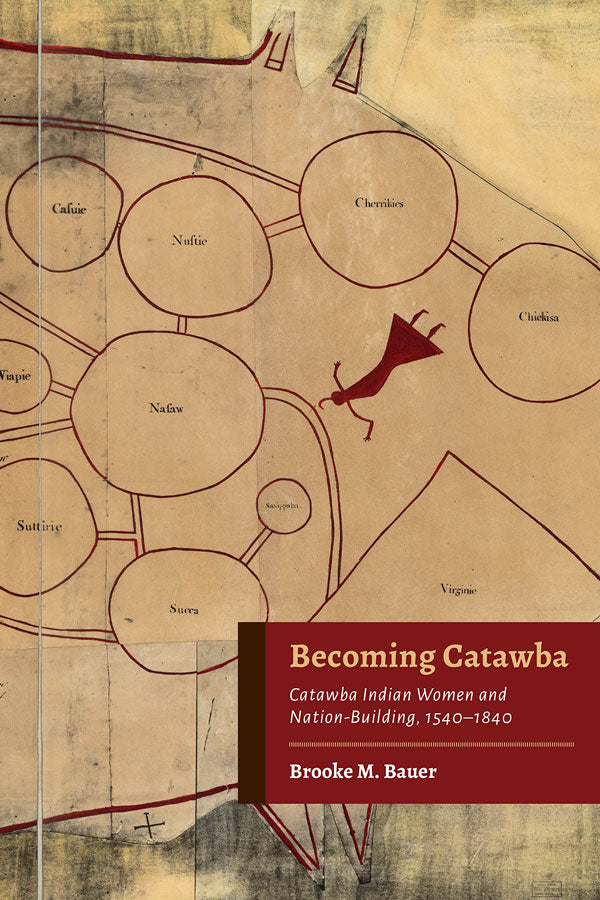 Becoming Catawba: Catawba Indian Women and Nation-Building, 1540-1840
Hardcover
University of Alabama (2022)
SKU: 9780817321437
Regular price
$54.95
$54.95
The story of Catawba women who experienced sweeping changes to their world but held onto traditional customs that helped them create and preserve a Catawba identity and build a nation.
Winner of the Anne B. & James B. McMillan Prize in Southern History Brooke M. Bauer's Becoming Catawba: Catawba Indian Women and Nation-Building, 1540-1840 is the first book-length study of the role Catawba women played in creating and preserving a cohesive tribal identity over three centuries of colonization and cultural turmoil. Bauer, a citizen of the Catawba Indian Nation of South Carolina, weaves ethnohistorical methodologies, family history, cultural context, and the Catawba language together to generate an internal perspective on the Catawbas' history and heritage in the area now known as the Carolina Piedmont.
This unique and important study examines the lives and legacies of women who executed complex decision-making and diplomacy to navigate shifting frameworks of kinship, land ownership, and cultural production in dealings with colonial encroachments, white settlers, and Euro-American legal systems and governments from the mid-sixteenth century to the early nineteenth century. Personified in the figure of Sally New River, a Catawba cultural leader to whom 500 remaining acres of occupied tribal lands were deeded on behalf of the community in 1796 and which she managed until her death in 1821, Bauer reveals how women worked to ensure the survival of the Catawba people and their Catawba identity, an effort that resulted in a unified nation.
Bauer's approach is primarily ethnohistorical, although it draws on a number of interdisciplinary strategies. In particular, Bauer uses "upstreaming," a critical strategy that moves toward the period under study by using present-day community members' connections to historical knowledge--for example, family histories and oral traditions--to interpret primary-source data. Additionally, Bauer employs archaeological data and material culture as a means of performing feminist recuperation, filling the gaps and silences left by the records, newspapers, and historical accounts as primarily written by and for white men. Ultimately, Becoming Catawba effects a welcome intervention at the intersections of Native, women's, and Southern history, expanding the diversity and modes of experience in the fraught, multifaceted cultural environment of the early American South.