An Aboriginal Carol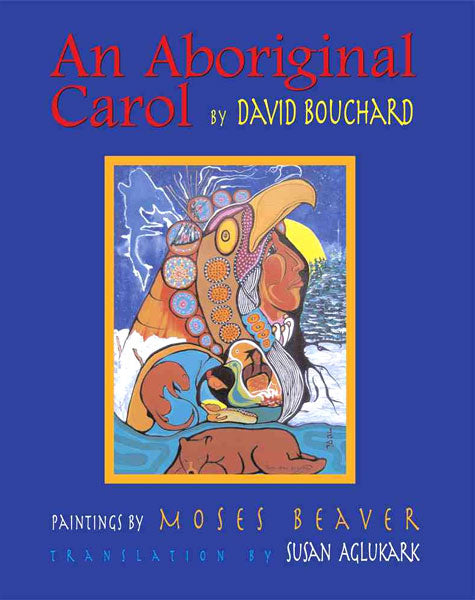 An Aboriginal Carol
Illustrated by Moses Beaver
Hardcover & CD
Red Deer Press (2008)
SKU: 9780889954069
Regular price
$24.95
$24.95
Translation and music by Susan Aglukark.
Best-selling Canadian author David Bouchard reworks Canada's oldest and most well-known carol, "The Huron Carol." The art of Moses Beaver, from the fly-in reserve of Summer Beaver, Ontario (Nikinamik), resonates and awakens an awareness that is at once exciting and empowering, a way for all people to understand the birth of Christ from an Aboriginal worldview. The pride of the north, Susan Aglukark, interprets, for the first time, the revered carol.
Written in English and in Inuktituk, the language of Canada's Inuit people, the book is accompanied by a CD, which includes a reading in both languages and a performance by Susan. An Aboriginal Carol is certain to become a classic.
One of Canada's bestselling and award winning authors, David Bouchard is of Métis descent. The author of over two dozen best-selling books, his If You're Not from the Prairie is on Maclean's list of the top 20 Canadian children's books. David Bouchard was a teacher and a principal for many years before turning to writing. For more information, visit www.davidbouchard.com.
Moses (Amik) Beaver is from the isolated fly-in community of Nibinamik, (Summer Beaver) 500 kilometers north of Thunder Bay in Northern Ontario. While Moses work reflects the black lines of traditional Woodlands art, he embraces his own unique style of embedded images of spirits, human faces and animal forms, transcending physical boundaries to the outer dimensions of the spiritual realm. The images tell stories, represent ancient teachings of his people and remind those who gaze on the work, we are all connected to each other and the natural world. For more information, visit www.mosesbeaver.com.
Singer/songwriter Susan Aglukark is one of Canada's most unique artist's and a leading voice in Canadian music. She blends the Inuktituk and English languages with contemporary pop music arrangements to tell the stories of her people, the Unuit of Arctic Canada. She is rapidly becoming known as an uplifting motivational speaker, able to reach both youth and adult audiences alike. For more information, visit www.susanaglukark.com.