Akawe Niwii-tibaajim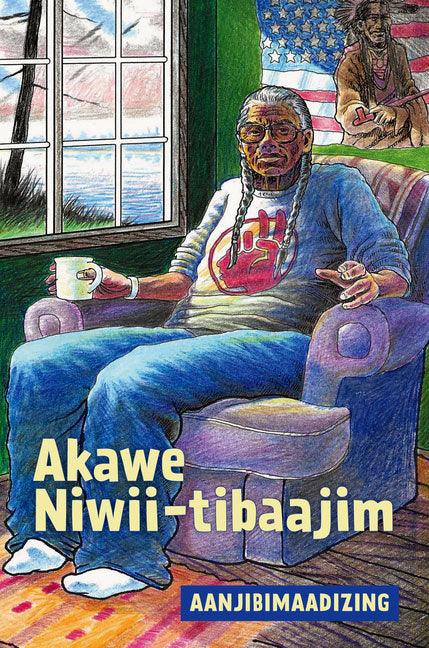 Akawe Niwii-tibaajim
Edited by Anton Treuer & Michael Sullivan Sr
Illustrated by Steve Premo
Paperback
Minnesota Historical Society Press (2020)
SKU: 9781681341798
Regular price
$18.95
$18.95
Presented in the Ojibwe language, these original reminiscences of elders of the Mille Lacs Band of Ojibwe bring to life the creative genius of some of Ojibwe country's most gifted storytellers.
In eighty brief original reminiscences and cultural stories, elders of the Mille Lacs Band of Ojibwe transmit a storehouse of experience and memories, wisdom and foolishness, and complex identity. Join Waasigwan (Shining Feather) as he navigates racism against African Americans in an Ojibwe community, learn about the cultural nuances of an Ojibwe naming ceremony, and experience the deeper meanings in the Ojibwe wild rice harvest. These are the stories that make us who we are. Akawe Niwii-tibaajim (First of All, I'm Telling a Story) is written for teachers, students, and Ojibwe language and culture enthusiasts ages fourteen and above.
Aanjibimaadizing, which means "Changing Lives," is a program of the Mille Lacs Band of Ojibwe. Through the Aanjibimaadizing Project, sixteen first speakers have teamed with linguists, teachers, and Ojibwe language experts to create this new literature for Ojibwe language learners. Conceived and presented only in Ojibwe, the stories reflect a rare authenticity as they transmit cultural values, increase vocabulary, and reinforce identity.