The Four Hills of Life: Ojibwe Wisdom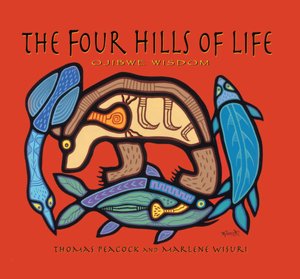 The Four Hills of Life: Ojibwe Wisdom
Paperback
Minnesota Historical Society Press (2011)
SKU: 9780873518284
Regular price
$19.95
$19.95
The Four Hills of Life tells the wise and beautiful Ojibwe story about the path we walk through the seasons of life, from the springtime of youth through the winter of old age. The hills we climb along the way are the challenges we face and the responsibilities we accept. The path is not always easy; some of us lose our way. We question the meaning of life. But when we walk the Good Path—when we commit to values and fulfill our goals—the meaning of life finds us.
With text and activities developed by Ojibwe elder and educator Thomas Peacock and heavily illustrated with photographs by Marlene Wisuri, The Four Hills of Life describes the journey taken by previous generations of Ojibwe and the relevance of these life lessons for young readers today.
Thomas Peacock, a member of the Fond du Lac Band of Lake Superior Chippewa, is an associate professor of educational leadership at the University of South Florida. Marlene Wisuri's photographs have been exhibited regionally and nationally. Peacock and Wisuri are additionally the authors of Ojibwe Waasa Inaabidaa: We Look in All Directions and The Good Path.