Monsters of Contact: Historical Trauma in Caddoan Oral Traditions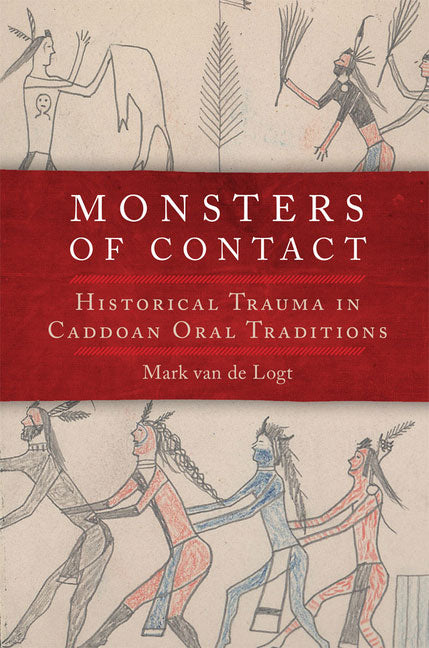 Monsters of Contact: Historical Trauma in Caddoan Oral Traditions
Paperback
University of Oklahoma Press (2020)
SKU: 9780806167503
Regular price
$29.95
$29.95
A murderous whirlwind, an evil child-abducting witch-woman, a masked cannibal, terrifying scalped men, a mysterious man-slaying flint creature: the oral tradition of the Caddoan Indians is alive with monsters. Whereas Western historical methods and interpretations relegate such beings to the realms of myth and fantasy, Mark van de Logt argues in Monsters of Contact that creatures found in the stories of the Caddos, Wichitas, Pawnees, and Arikaras actually embody specific historical events and the negative effects of European contact: invasion, war, death, disease, enslavement, starvation, and colonialism.
Van de Logt examines specific sites of historical interaction between American Indians and Europeans, from the outbreaks and effect of smallpox epidemics on the Arikaras, to the violence and enslavement Caddos faced at the hands of Hernando de Soto's expedition, and Wichita encounters with Spanish missionaries and French traders in Texas. In each case he explains how, through Indian metaphor, seemingly unrelated stories of supernatural beings and occurrences translate into real people and events that figure prominently in western U.S. history. The result is a peeling away of layers of cultural values that, for those invested in Western historical traditions, otherwise obscure the meaning of such tales and their "monsters."
Although Western historical methods have become the standard in much of the world, van de Logt demonstrates that indigenous forms of history are no less valuable, and that oral traditions and myths can be useful sources of historical information. A daring interpretation of Caddoan lore, Monsters of Contact puts oral traditions at the center of historical inquiry and, in so doing, asks us to reconsider what makes a monster.