Undefeated: Jim Thorpe and the Carlisle Indians Football Team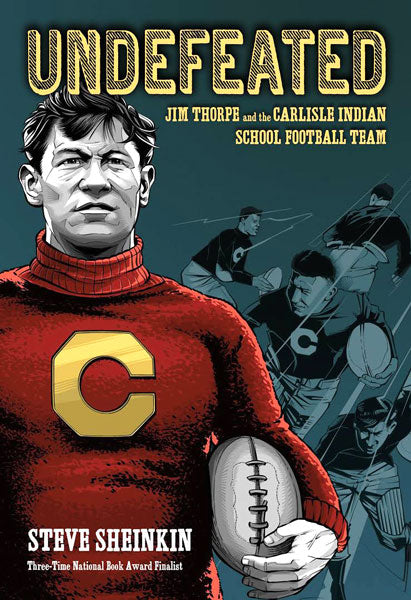 Undefeated: Jim Thorpe and the Carlisle Indians Football Team
Paperback
Square Fish (2019)
SKU: 9781250294470
Regular price
$14.99
$14.99
Undefeated: Jim Thorpe and the Carlisle Indian School Football Team is an astonishing underdog sports story--and more. It's an unflinching look at the U.S. government's violent persecution of Native Americans and the school that was designed to erase Indian cultures. Expertly told by three-time National Book Award finalist Steve Sheinkin, it's the story of a group of young men who came together at that school, the overwhelming obstacles they faced both on and off the field, and their absolute refusal to accept defeat.
Jim Thorpe: Super athlete, Olympic gold medalist, Native American
Pop Warner: Indomitable coach, football mastermind, Ivy League grad
Before these men became legends, they met in 1907 at the Carlisle Indian Industrial School in Pennsylvania, where they forged one of the winningest teams in American football history. Called the team that invented football, they took on the best opponents of their day, defeating much more privileged schools such as Harvard and the Army in a series of breathtakingly close calls, genius plays, and bone-crushing hard work.
This thoroughly-researched and documented book can be worked into multiple aspects of the common core curriculum.
"Along with Thorpe's fascinating personal story, Sheinkin offers a thought-provoking narrative about the evolution of football and the development of boarding schools such as the Carlisle Indian School." -- The Washington Post