God's Red Son: The Ghost Dance Religion and the Making of Modern America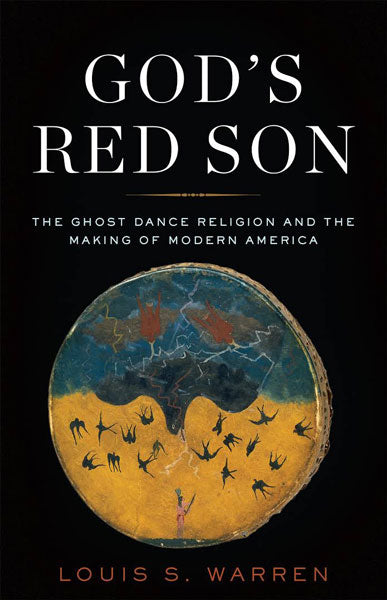 God's Red Son: The Ghost Dance Religion and the Making of Modern America
Hardcover
Basic Books (2017)
SKU: 9780465015023
Regular price
$35.00
$35.00
In 1890, on Indian reservations across the West, followers of a new religion danced in circles until they collapsed into trances. In an attempt to suppress this new faith, the US Army killed over two hundred Lakota Sioux at Wounded Knee Creek. Louis Warren's God's Red Son offers a startling new view of the religion known as the Ghost Dance, from its origins in the visions of a Northern Paiute named Wovoka to the tragedy in South Dakota. To this day, the Ghost Dance remains widely mischaracterized as a primitive and failed effort by Indian militants to resist American conquest and return to traditional ways. In fact, followers of the Ghost Dance sought to thrive in modern America by working for wages, farming the land, and educating their children, tenets that helped the religion endure for decades after Wounded Knee. God's Red Son powerfully reveals how Ghost Dance teachings helped Indians retain their identity and reshape the modern world.
"God's Red Son is riveting and transcendent—a magnificent new interpretation that reveals the Ghost Dance as a beacon to modernity, lighting the way to the future. Like Wovoka himself, Louis Warren speaks to all of us navigating the difficult terrain between past realities and present prospects." —Elizabeth Fenn, winner of the Pulitzer Prize for History, University of Colorado Boulder
"Louis Warren's Buffalo Bill's America leapt past decades of writing to become the definitive treatment of the Wild West show. With God's Red Son, he has done it again, combining scholarly depth and literary brilliance in a magisterial reinterpretation of the Ghost Dance. But more than that, God's Red Son is one of the most powerful accounts of Native American modernity you'll ever read, critical to an understanding of Indian Country today." —Philip J. Deloria, Carroll Smith-Rosenberg Collegiate Professor, University of Michigan
"With God's Red Son, Louis Warren has written yet another book that is going to re-arrange the mental furniture in our heads. His wonderfully-clear prose pulls us effortlessly through a story that has western Indians emerge as entirely modern, and their 19th century Ghost Dance religion as an endeavor many readers will find not just freshly understandable, but spiritually familiar. As was the case with his biography of Buffalo Bill, this book is Warren at the absolute top of his game."—Dan Flores, author of Coyote America: A Natural and Supernatural History.