The Blue Jay's Dance: A Memoir of Early Motherhood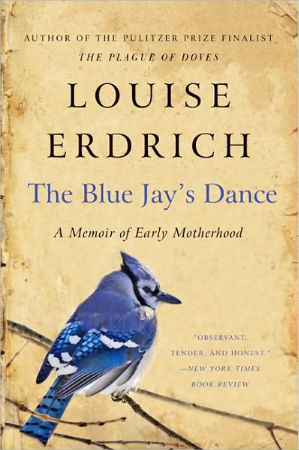 The Blue Jay's Dance: A Memoir of Early Motherhood
Paperback
Harper Perennial (2010)
SKU: 9780061767975
Regular price
$15.99
$15.99
Includes bookplate signed by the author.
Louise Erdrich's first major work of nonfiction, the New York Times-bestselling The Blue Jay's Dance brilliantly and poignantly examines the joys and frustrations, the compromises and insights, and the difficult struggles and profound emotional satisfactions the author experienced in the course of one twelve-month period—from a winter pregnancy through a spring and summer of new motherhood to her return to writing in the fall. In exquisitely lyrical prose, Erdrich illuminates afresh the large and small events that every parent will recognize and appreciate.
Unpredictable, unpretentious, unforgettable, The Blue Jay's Dance takes the mundane routines of everyday life and renders them marvelous. Once again, Louise Erdrich—winner of the 2012 National Book Award and a writer of astonishing insight and skill—discovers the universal within the particular moment and gives full-bodied expression to that most common and yet most mysterious of all human tasks: the passing on of life.