Makoons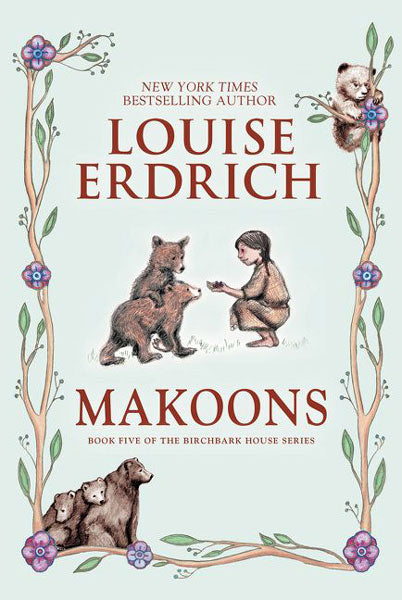 Makoons
Paperback
HarperCollins (2016)
SKU: 9780060577957
Includes bookplate signed by the author.
The 5th book in the Birchbark House Series.
In the sequel to Chickadee, acclaimed author Louise Erdrich continues her award-winning Birchbark House series with the story of an Ojibwe family in nineteenth-century America.
Named for the Ojibwe word for little bear, Makoons and his twin, Chickadee, have traveled with their family to the Great Plains of Dakota Territory. There they must learn to become buffalo hunters and once again help their people make a home in a new land. But Makoons has had a vision that foretells great challenges—challenges that his family may not be able to overcome.
Based on Louise Erdrich's own family history, this fifth book in the series features black-and-white interior illustrations, a note from the author about her research, as well as a map and glossary of Ojibwe terms.
"Erdrich continues her excellent storytelling. She has a knack for creating humorous and endearing characters. This beautiful novel is quick moving and deeply affecting. Readers will thoroughly enjoy following Makoons and learning about Ojibwe life." (School Library Journal (starred review))
"Erdrich's direct narrative voice brings readers right into Makoons' world. A new addition to the Birchbark House saga, launched in 1999, is always an anticipated event." (ALA Booklist)
"Warm intergenerational moments abound. Erdrich provides fascinating information about Ojibwe daily life. Readers will be enriched by Erdrich's finely crafted corrective to the Eurocentric dominant narrative of America's past." (Horn Book (starred review))
"Erdrich's simple text and delicate pencil illustrations provide a detailed, honest portrait of Plains life. A warm and welcome addition to the unfolding saga of a 19th-century Ojibwe family." (Kirkus Reviews)