Indigenous Community: Rekindling the Teachings of the Seventh Fire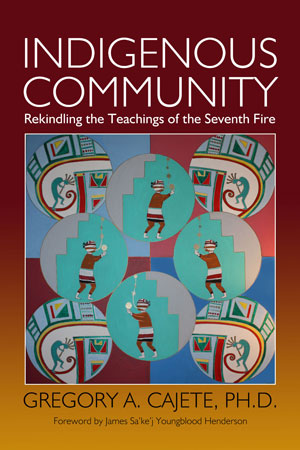 Indigenous Community: Rekindling the Teachings of the Seventh Fire
Paperback
Living Justice Press (2015)
SKU: 9781937141172
Regular price
$27.95
$27.95
Toward an Evolving Epistemology of Contemporary Indigenous Education.
For more than three decades, Gregory Cajete's books and lectures have represented one of the most consistently exploratory, challenging, and coherent Indigenous voices and strategists in contemporary scholarship. He has helped generate the Indigenous renaissance, both continentally and globally. His earlier books have revealed the ecology of Indigenous education and the relations of Indigenous science to Eurocentric (or Western) science. His latest book, Indigenous Community: Rekindling the Teachings of the Seventh Fire, continues this momentous tradition. His work is both a meditation on how Indigenous knowledge, science, and humanity have generated Indigenous communities that are vital to encountering and overcoming intractable situations as well as a celebration of Indigenous communities and intellectual creativity.
His book leads the reader on an insightful journey into Indigenous concepts of knowledge, community, education, and leadership. These concepts are interrelated tools for intervention and transformation. The book reveals a vision, the vital deep dialogues, and the essential steps toward generating sustained and empowered connections among self, home, community, and leadership. He consciously challenges the existing Eurocentric story lines of dysfunctional educative stories of Indigenous communities and perceived deficient individuals in education and generates ways to rethink the old discourses and story lines. He replaces these story lines with functional educative stories of restoring Indigenous leadership, communities, and individuals. Gregory demonstrates how this crucial transformation can be achieved through using Indigenous knowledge and viewing information in culturally sensitive and holistic ways to create a multipronged responsive educational system that will serve a sustainable community, leadership, and environment for the complex and indeterminate future. He explains how the ancient and unfolding stories of a community and their pedagogy are the essence of Indigenous education, revitalization, and organic Indigenous scholars and leaders. He describes these imperative processes and principles as a way to come back to our collective Indigenous power.