Highway of Tears: A True Story of Racism, Indifference, and the Pursuit of Justice for Missing and Murdered Indigenous Women and Girls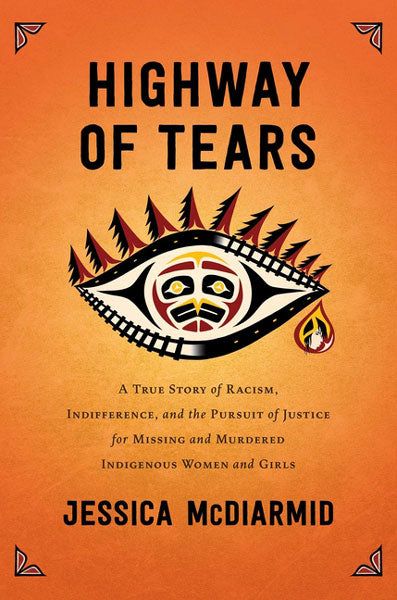 Highway of Tears: A True Story of Racism, Indifference, and the Pursuit of Justice for Missing and Murdered Indigenous Women and Girls
Hardcover
Atria Books (2019)
SKU: 9781501160288
Regular price
$28.00
$28.00
"These murder cases expose systemic problems... By examining each murder within the context of Indigenous identity and regional hardships, McDiarmid addresses these very issues, finding reasons to look for the deeper roots of each act of violence." —The New York Times Book Review
In the vein of the bestsellers I'll Be Gone in the Dark and The Line Becomes a River, a penetrating, deeply moving account of the missing and murdered indigenous women and girls of Highway 16, and a searing indictment of the society that failed them.
For decades, Indigenous women and girls have gone missing or been found murdered along an isolated stretch of highway in northwestern British Columbia. The corridor is known as the Highway of Tears, and it has come to symbolize a national crisis.
Journalist Jessica McDiarmid meticulously investigates the devastating effect these tragedies have had on the families of the victims and their communities, and how systemic racism and indifference have created a climate in which Indigenous women and girls are overpoliced yet underprotected. McDiarmid interviews those closest to the victims—mothers and fathers, siblings and friends—and provides an intimate firsthand account of their loss and unflagging fight for justice. Examining the historically fraught social and cultural tensions between settlers and Indigenous peoples in the region, McDiarmid links these cases to others across Canada—now estimated to number up to four thousand—contextualizing them within a broader examination of the undervaluing of Indigenous lives in the country.
Highway of Tears is a piercing exploration of our ongoing failure to provide justice for the victims and a testament to their families' and communities' unwavering determination to find it.