Nursery Rhymes for Anishinaabe Children and Their Families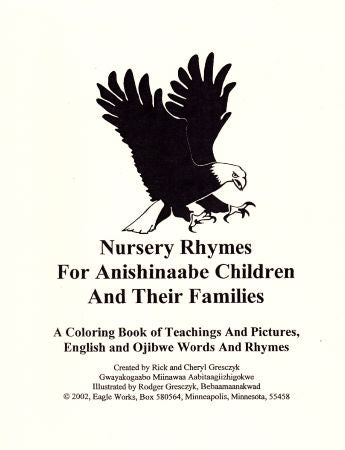 Nursery Rhymes for Anishinaabe Children and Their Families
Coloring Book
Eagle Works (2010)
SKU: OJIB-9
Regular price
$25.00
$25.00
A Coloring Book of Teachings and Pictures, English and Ojibwe Words and Rhymes.
The other day we were thinking about how we teach young children to read. We know that, just like learning a language, it begins in the home. It's on the knee of a loved one. It's with the love and teachings of a family that the child grows strong and gets ready for school. Parents and grandparents, older siblings, and other relatives and friends can all help in this task.
So this book is dedicated to all of you who help children get ready for school, and to all the elders and speakers of the Ojibwe language, who pass on their knowledge and keep it alive, and especially to all Anishinaabe children, the future of the Anishinaabe nation.

We know that nursery rhymes are some of the first things that are read to children. The nursery rhymes, as we know them, do not necessarily speak to Anishinaabe children. So, we considered changing them, for example:

Jack and Jill went up the hill
And so we wonder what for.
If they had gone for water,
They should have gone down to the shore.

Or:

There was an old woman who lived in a shoe
She had so many children she didn't know what to do.
She could ask for help from her extended family
And never end up treating her kids so badly.

Or:

The old lady could have lived in a moccasin
A buffalo could have jumped over the moon
Mary could have grown corn in her garden
The little pigs could have gone dancing at noon.

But, we decided to create original Anishinaabe cultural verses that rhyme, so the children could learn some of their Anishinaabe culture and language at the same time. Reading something about the past and present is cool. This gives them extra strength by the time they start school.