Discovering People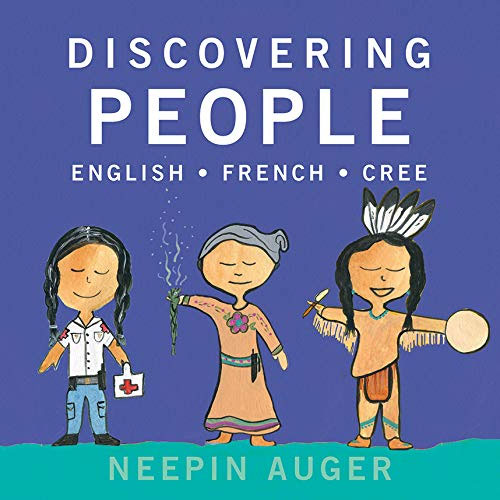 Discovering People
Paperback
Rocky Mountain Books (2020)
SKU: 9781771604710
Regular price
$10.00
$10.00
In English, French, and Cree.
One of a quartet of trilingual books by Neepin Auger, a Cree artist, educator, and mother, Discovering People was originally published as a board book in 2019 and has now been reissued in a paperback format with new cover art. Beginning with the "role" names of family members and then spreading out to identify community members, Auger introducers her young readers to 22 terms that are used to identify the various roles people can play in her young readers' lives.
Each of the book's people is treated on a single page. In Auger's other three books, the English word was presented first, and it was then followed by its (bolded) French and (italicized) Cree equivalents. Discovering People begins with that pattern, but Auger scrambles the order part way through, and readers must pay closer attention to the font to identify the language of the word.
As the book's cover art indicates, Auger uses cartoon-like illustrations with spare backgrounds in portraying the people. Because many of Auger's people are shown as having braided hair and wearing non-gender specific clothing, readers can choose, for example, to see the doctor or paramedic as being male or female. In illustrating the dancer and the drummer, Auger draws upon her cultural heritage with a hoop dancer and a man drumming on a traditional hand drum.
Neepin Auger's colourful books for infants have collectively sold well over 20,000 copies since they first appeared on the market. With more and more parents and educators looking for Indigenous resources, this paperback edition of Discovering People will bring the experience of learning French and Cree to a whole new group of early elementary school-aged kids.