Chi-mewinzha: Ojibwe Stories from Leech Lake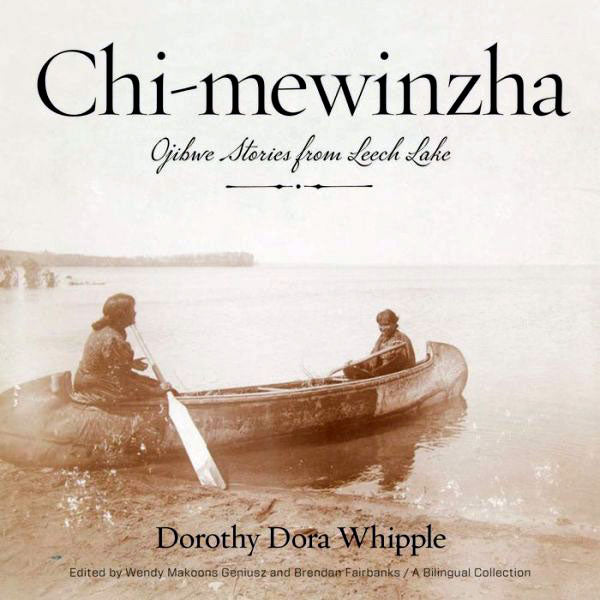 Chi-mewinzha: Ojibwe Stories from Leech Lake
Edited by Wendy Makoons Geniusz & Brendan Fairbanks
Illustrated by Annmarie Geniusz
Paperback
University of Minnesota Press (2015)
SKU: 9780816697267
Regular price
$21.95
$21.95
In the first ninety-five years of her life, Dorothy Dora Whipple has seen a lot of history, and in this book that history, along with the endangered Ojibwe language, sees new life. A bilingual record of Dorothy's stories, ranging from personal history to cultural teachings, Chi-mewinzha (long ago) presents this venerable elder's words in the original Ojibwe, painstakingly transcribed, and in English translation to create an invaluable resource for learning this cherished language.
The events of Dorothy Dora Whipple's life resonate with Ojibwe life and culture through the twentieth century, from tales of growing up among the Anishinaabeg of the Leech Lake Reservation in the 1920s and 1930s to an account of watching an American Indian Movement protest in Minneapolis during the 1970s. In between, we encounter modern dilemmas (like trying to find a place to make a tobacco offering in an airport) and traditional stories (such as the gigantic beings who were seen in the waterchi-mewinzha). Dorothy's own recollections—sometimes amusing, sometimes poignant—offer insight into the daily realities, both intimate and emblematic, of Native American life.
Dorothy remembers an older sister coming home from boarding school, no longer speaking Ojibwe—and no longer able to communicate with her siblings. This collection resists such a fate, sharing the language so critical to a people's identity and offering a key text to those who would learn, preserve, and speak Ojibwe.
Dorothy Dora Whipple, whose Anishinaabe name is Mezinaashiikwe, is an elder from the Leech Lake Reservation in Minnesota who currently lives in Cass Lake. She was a member of the Minneapolis American Indian Community for many years. She has spoken Ojibwe her entire life and has worked on numerous Ojibwe language revitalization projects, including the University of Minnesota's Ojibwe Language CD-ROM Project.