A Bag Worth a Pony: The Art of the Ojibwe Bandolier Bag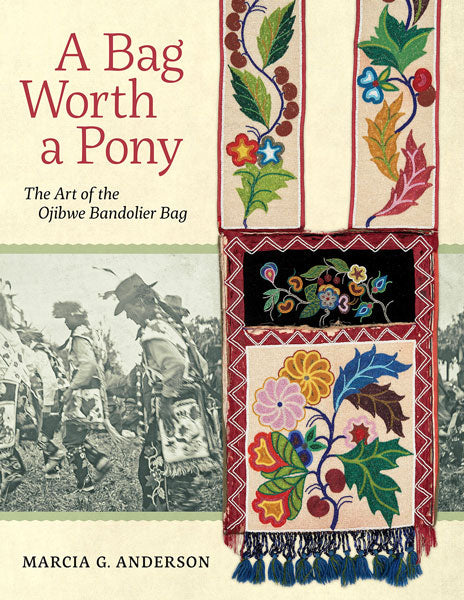 A Bag Worth a Pony: The Art of the Ojibwe Bandolier Bag
Paperback
Minnesota Historical Society Press (2017)
SKU: 9781681340296
Regular price
$34.95
$34.95
Bandolier bags, or gashkibidaaganag—the large, heavily beaded shoulder bags made and worn by several North American Indian tribes around the Great Lakes—are prized cultural icons here and around the world. From the 1870s to the present day, Ojibwe bead artists of Minnesota have been especially well known for their lively, creative designs. Neighboring Dakota people would trade a pony for a beautiful beaded bag.
Over the years, non-Indian collectors and ethnographers, struck by the bags' cultural significance and visual appeal, bought them up. Today, there are hundreds of bags in museums around the world, but not so many in the hands of community members. In A Bag Worth a Pony, Marcia G. Anderson shares the results of thirty years of study, in which she learned from the talented bead artists who keep the form alive, from historical records, and from the bags themselves.
Anderson examines the history, forms, structure, and motifs of the bags, giving readers the tools to understand a bag's makeup and meaning. She also offers a tour of Minnesota's seven Ojibwe reservations, showing the beautiful beaded bags associated with each along with the personal insights of seven master beadworkers.