A Field of Their Own: Women and American Indian History, 1830-1941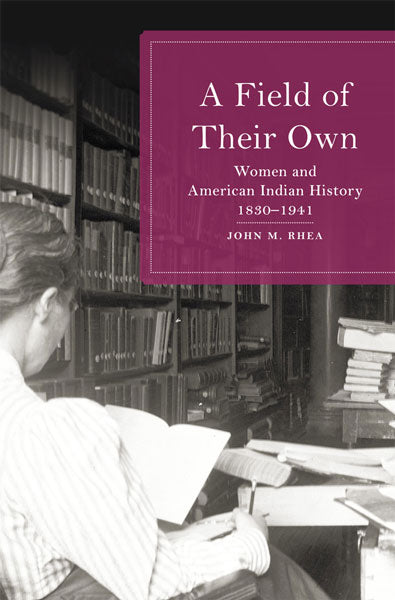 A Field of Their Own: Women and American Indian History, 1830-1941
Hardcover
University of Oklahoma Press (2016)
SKU: 9780806152271
Regular price
$34.95
$34.95
One hundred and forty years before Gerda Lerner established women's history as a specialized field in 1972, a small group of women began to claim American Indian history as their own domain. A Field of Their Own examines nine key figures in American Indian scholarship to reveal how women came to be identified with Indian history and why they eventually claimed it as their own field. From Helen Hunt Jackson to Angie Debo, the magnitude of their research, the reach of their scholarship, the popularity of their publications, and their close identification with Indian scholarship makes their invisibility as pioneering founders of this specialized field all the more intriguing.
Reclaiming this lost history, John M. Rhea looks at the cultural processes through which women were connected to Indian history and traces the genesis of their interest to the nineteenth-century push for women's rights. In the early 1830s evangelical preachers and women's rights proponents linked American Indians to white women's religious and social interests. Later, pre-professional women ethnologists would claim Indians as a special political cause. Helen Hunt Jackson's 1881 publication, A Century of Dishonor, and Alice Fletcher's 1887 report, Indian Education and Civilization, foreshadowed the emerging history profession's objective methodology and established a document-driven standard for later Indian histories.
By the twentieth century, historians Emma Helen Blair, Louise Phelps Kellogg, and Annie Heloise Abel, in a bid to boost their professional status, established Indian history as a formal specialized field. However, enduring barriers continued to discourage American Indians from pursuing their own document-driven histories. Cultural and academic walls crumbled in 1919 when Cherokee scholar Rachel Caroline Eaton earned a Ph.D. in American history. Eaton and later Indigenous historians Anna L. Lewis and Muriel H. Wright would each play a crucial role in shaping Angie Debo's 1940 indictment of European American settler colonialism, And Still the Waters Run.
Rhea's wide-ranging approach goes beyond existing compensatory histories to illuminate the national consequences of women's century-long predominance over American Indian scholarship. In the process, his thoughtful study also chronicles Indigenous women's long and ultimately successful struggle to transform the way that historians portray American Indian peoples and their pasts.