Views from the Reservation: A New Edition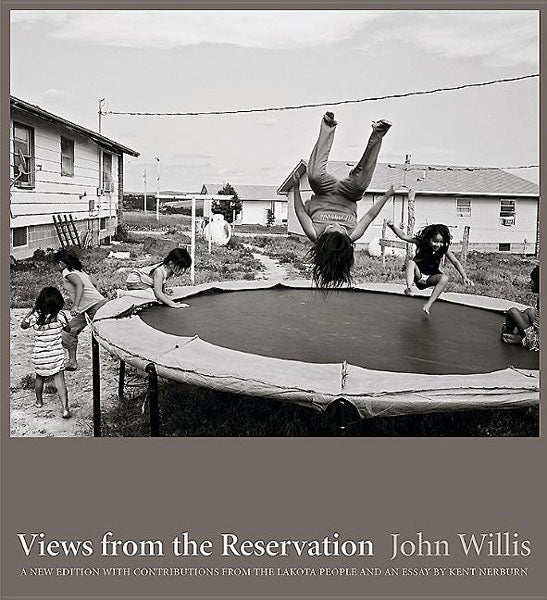 Views from the Reservation: A New Edition
Hardcover
George F Thompson Publishing (2019)
SKU: 9781938086632
Regular price
$45.00
$45.00
Photographer John Willis has long been aware of the exploitation that can occur when photographers enter communities as outsiders. So, in 1992, when he first visited the Pine Ridge Indian Reservation in South Dakota, he assured elders of the Oglala Lakota nation that he would not exhibit any of his images. Over time, however, Willis earned the respect and trust of the community, and the elders urged him to show his work and create this book so that others might better understand Lakota land and life.
Willis has returned to the reservation every year since 1992, and he has come to grasp and interpret this place as few others have. Views from the Reservation, first published to widespread acclaim in 2010 and now presented in an updated and expanded edition, remains a gift—a wopila—that is meant to open the minds, eyes, and hearts of outsiders to the life, culture, and conditions of the Oglala Lakota people.
Along with his insightful and accomplished images, Willis has enlisted other voices to offer a more complete story: Lakota elders and high school students from the Pine Ridge Reservation offer powerful poems; writer Kent Nerburn contributes an original essay; Emil Her Many Horses, a curator at the National Museum of the American Indian, tells his story of growing up on the rez; Kevin Gover, Director of the National Museum of the American Indian, apologizes for the government's abuse of native people; Oglala Lakota artist Dwayne Wilcox shares his provocative ledger drawings; and members of the Reddest family present their amazing photo collection.
Views from the Reservation is a masterful book that has been praised by the Lakota people for its honesty, spirit, and depth. It offers the chance for native peoples and outsiders alike to appreciate and respect the Pine Ridge Reservation from contemporary and historical points of view, with art and storytelling leading the way.