Starring Red Wing!: The Incredible Career of Lilian M. St. Cyr, the First Native American Film Star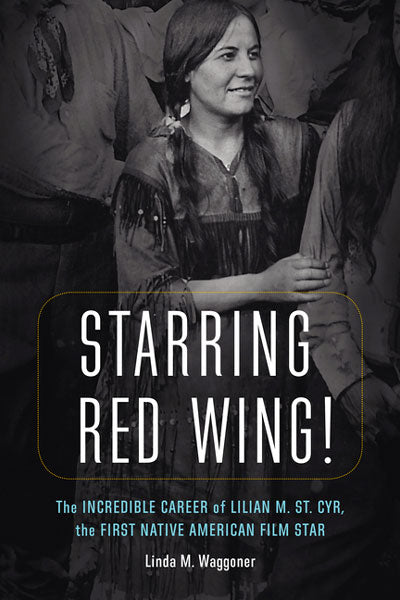 Starring Red Wing!: The Incredible Career of Lilian M. St. Cyr, the First Native American Film Star
Hardcover
Bison Books (2019)
SKU: 9781496215598
Regular price
$32.95
$32.95
The epic biography Starring Red Wing! brings the exciting career, dedicated activism, and noteworthy legacy of Ho-Chunk actress Lilian Margaret St. Cyr vividly to life. Known to film audiences as "Princess Red Wing," St. Cyr emerged as the most popular Native American actress in the pre-Hollywood and early studio-system era in the United States. Today St. Cyr is known for her portrayal of Naturich in Cecile B. DeMille's The Squaw Man (1914); although DeMille claimed to have "discovered the little Indian girl," the viewing public had already long adored her as a petite, daredevil Indian heroine. She befriended and worked with icons such as Mary Pickford, Jewell Carmen, Tom Mix, Max Sennett, and William Selig.
Born on the Winnebago Reservation in 1884 and orphaned in 1888, she spent ten years in Indian boarding schools before graduating from the Carlisle Indian Industrial School in 1902. She married James Young Johnson, and in 1907 the couple reinvented themselves as the stage personas "Princess Red Wing" and "Young Deer," performing in Wild West shows around New York and beginning their film careers.
As their popularity grew, St. Cyr and Johnson decamped from the East Coast and helped establish the second motion picture company in Southern California, where Red Wing became a Native American leading lady in westerns until her career waned in 1917. After returning to the reservation to work as a housekeeper, she took her show on a two-year tour to educate the public about Native culture and lived out her life in New York, performing, educating, and crafting regalia.
Starring Red Wing! is a sweeping narrative of St. Cyr's evolution as America's first Native American film star, from her childhood and performance career to her days as a respected elder of the multi-tribal New York City Indian Community.