Antelope Woman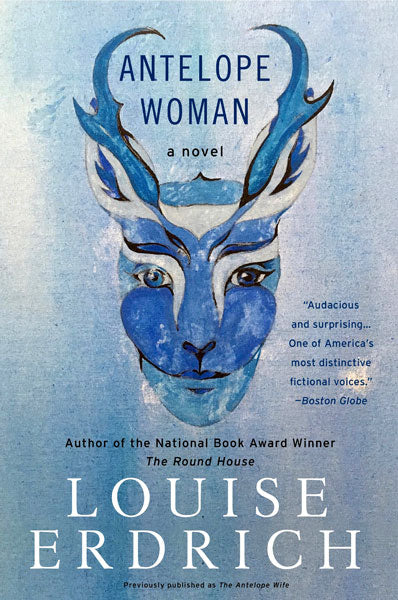 Antelope Woman
Paperback
Harper Perennial (2106)
SKU: 9780062375285
Regular price
$16.99
$16.99
Includes bookplate signed by the author. Cover art by Aza Erdrich.
This updated edition of National Book Award-winning and New York Times bestselling author Louise Erdrich's 1998 novel The Antelope Wife now features fascinating new content, a new title, beautiful cover art by Aza Erdrich, and a new foreword by the author—a riveting story that explores tensions between Native American and white cultures.
"This is a rewrite. I kept a few chapters, but most of this book is new. I gave my Antelope Woman her wise wildness, her unowned heart. That is why she became an Antelope Woman, not an Antelope Wife." - Louise Erdrich
When Klaus Shawano abducts Sweetheart Calico, the seductive Indian woman who has stolen his heart, and takes her far from her native Montana plains to his own Minneapolis home, he cannot begin to imagine the eventual ramifications his brazen act will entail. Shawano's mysterious Antelope Woman has utterly mesmerized him—and soon proves to be a bewitching agent of chaos whose effect on others is disturbing and irresistible, as she alters the shape of things around her and the shape of things to come.
The Roy and Shawano families have been inextricably intertwined for generations and, unbeknownst to them, the mysterious Antelope Woman is a part of their fierce and haunting history. Antelope Woman ingeniously illuminates how that history affects the contemporary descendants of these families who are the products of two cultures, Ojibwe and white, which sit in uneasy relationship to one another.
In this remarkable updated edition of her acclaimed novel, Louise Erdrich weaves an unforgettable tapestry of ancestry, fate, harrowing tragedy, and redemption that seems at once modern and eternal.