Heartbeat, Warble, and the Electric Powwow: American Indian Music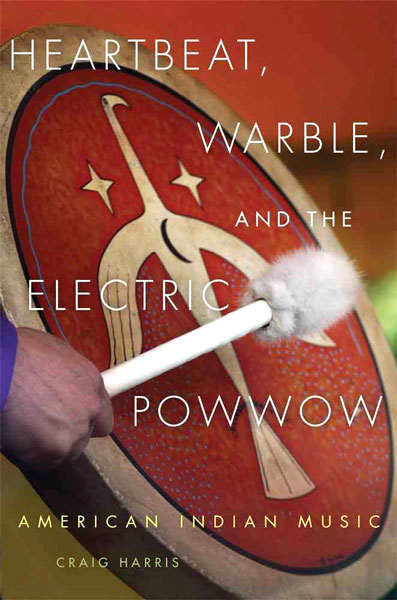 Heartbeat, Warble, and the Electric Powwow: American Indian Music
Paperback
University of Oklahoma Press (2016)
SKU: 9780806151687
Regular price
$24.95
$24.95
Despite centuries of suppression and oppression, American Indian music survives today as a profound cultural force. Heartbeat, Warble, and the Electric Powwow celebrates in depth the vibrant soundscape of Native North America, from the heartbeat of intertribal drums and warble of Native flutes to contemporary rock, hip-hop, and electronic music. Drawing on more than one hundred interviews with musicians, producers, ethnographers, and record-label owners, author and musician Craig Harris conjures an aural tapestry in which powwow drums and end-blown woodwinds resound alongside operatic and symphonic strains, jazz and reggae, country music, and blues.
Harris begins with an exploration of the powwow, from sacred ceremonies to intertribal gatherings. He examines the traditions of the Native American flute and its revival with artists such as two-time Grammy winners R. Carlos Nakai and Mary Youngblood. Singers and songwriters, including Buffy Sainte-Marie, Keith Secola, and Joanne Shenandoah, provide insights into their music and their lives as American Indians. Harris also traces American Indian rock, reggae, punk, and pop over four decades, punctuating his survey with commentary from such artists as Tom Bee, founder of Native America s first rock band, XIT. Grammy-winner Taj Mahal recalls influential guitarist Jesse Ed Davis; ex-bandmates reflect on Rock Hall of Fame inductee Redbone; Robbie Robertson, Pura Fe, and Rita Coolidge describe how their groundbreaking 1993 album, "Music for the Native Americans," evolved; and DJs A Tribe Called Red discuss their melding of archival powwow recordings into fiery dance music.
The many voices and sounds that weave throughout Harris s engaging, accessible account portray a sonic landscape that defies stereotyping and continues to expand. Heartbeat, Warble, and the Electric Powwow is the story told by those who live it of resisting a half-millennium of cultural suppression to create new sounds while preserving old roots.