In the Beginning, the Sun: The Dakota Legend of Creation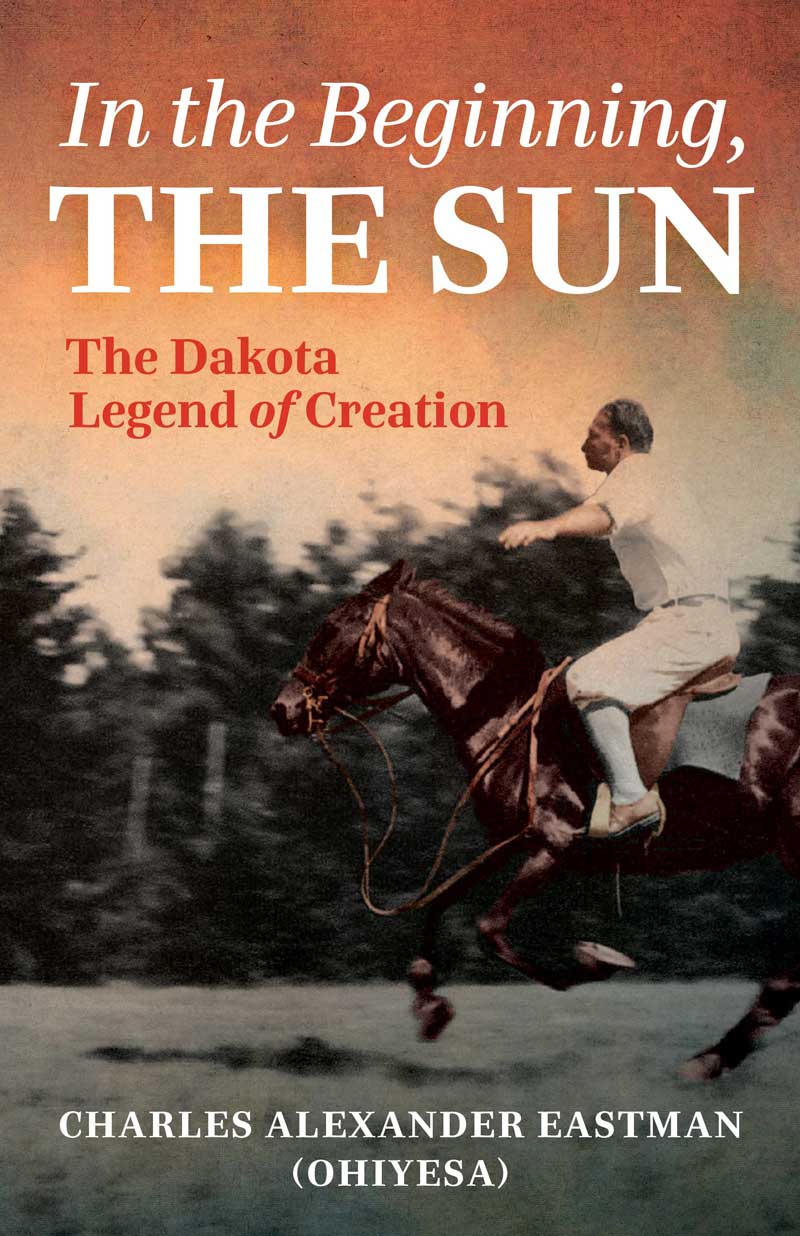 In the Beginning, the Sun: The Dakota Legend of Creation
Edited by Gail Johnsen & Sydney Beane
Paperback
Minnesota Historical Society Press (2023)
SKU: 9781681342337
Regular price
$17.95
$17.95
A never-before-published book by famed Native American author Charles Eastman recounts the stories of the Dakota creation cycle as they were told a century and a half ago.
In the 1860s and 1870s, the boy who would become known as Charles Eastman was growing up in a Dakota community in Canada. On long winter evenings, he listened to elder Smoky Day tell the twelve legends of the Dakota creation cycle. They include stories of the marriage of the Sun and the Earth, the parents of all living things; the animal tribes and their councils; the misdeeds of the trickster Unktomi; the education of the first human, Waceheska; the war that Unktomi fomented between Waceheska and the animals; and much more. These stories describe how humans earned the right to use the bodies of animals for their needs, but only if they respect the animals' spirits and do not destroy them wantonly.
In the 1880s, as a young man at college, Eastman wrote down the twelve stories. Shortly before his death in 1939, he revised the text for publication, but no book was ever released. For more than 80 years, this manuscript—written by one of the best-known and most prolific Native American writers of the early twentieth century—remained unpublished.
In this new publication, descendants of Charles and his brothers John and David Eastman have come together to present this extraordinary work, more than eight decades after its completion. Gail Johnsen, Charles's great-granddaughter, describes finding this manuscript in the family papers she inherited and turning to her relatives in Minnesota to learn more. Sydney D. Beane, great-grandson of John, outlines Eastman's career and the history of the Dakota community at Flandrau, South Dakota. Yvonne Wynde, great-granddaughter of David, recounts her early memories of Charles's many relatives and identifies current Dakota practices that reflect the teachings in the legends. Yvonne's daughter Gabrielle Tateyuskanskan offers new perspectives on Charles's work as an Indigenous artist and writer. And Kate Beane, daughter of Sydney, discusses the power and beauty of these teachings for Dakota people today.