How Indians Use Wild Plants for Food, Medicine & Crafts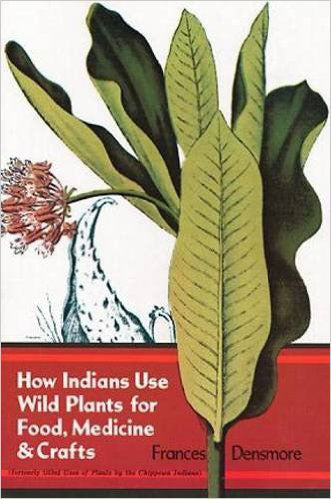 How Indians Use Wild Plants for Food, Medicine & Crafts
Paperback
Frances Densmore (1974)
SKU: 9780486230191
Regular price
$11.95
$11.95
The uses of plants for food, for medicine, for arts, crafts, and dyeing among the Chippewa Indians of Minnesota and Wisconsin show the great extent to which they understood and utilized natural resources. In this book those traditions are captured, providing a wealth of new material for those interested in natural food, natural cures, and native crafts.
In separate sections describing the major areas of use, Miss Densmore, an ethnologist with the Smithsonian Institution, details the uses of nearly 200 plants with emphasis on wild plants and lesser-known uses. For those interested in natural foods she gives extensive coverage to the gathering and preparation of maple sugar and wild rice, as well as preparations for beverages from leaves and twigs of common plants, seasonings including mint and bearberry, the methods of preparing wild rice and corn, cultivated and wild vegetables, and wild fruits and berries. On Indian medicines she tells the basic methods of gathering plants and the basic surgical and medical methods. Then she gives a complete list of the plants with their botanical names, uses, parts used, preparation and administration, and other notes and references. Also covered are plants used as charms, plants used in natural dyes, and plants in the useful and decorative arts including uses for household items, toys, mats, twine, baskets, bows, and tools, with special emphasis on the uses of birch bark and cedar. This section will be especially useful for supplying new and unusual craft ideas. In addition, 36 plates show the many stages of plant gathering and preparation and many of the artistic uses. While a number of the plants discussed are native only to the Great Lakes region, many are found throughout a wide range.
Those studying the Indians of the Great Lakes region, or those trying to get back to nature through understanding and using natural materials, will find much about the use of plants in all areas of community life. Because of Miss Densmore's deep knowledge and clear presentation, her study remains a rich and useful source for learning about or using native foods, native cures, and native crafts."