Indigenous Women and Violence: Feminist Activist Research in Heightened States of Injustice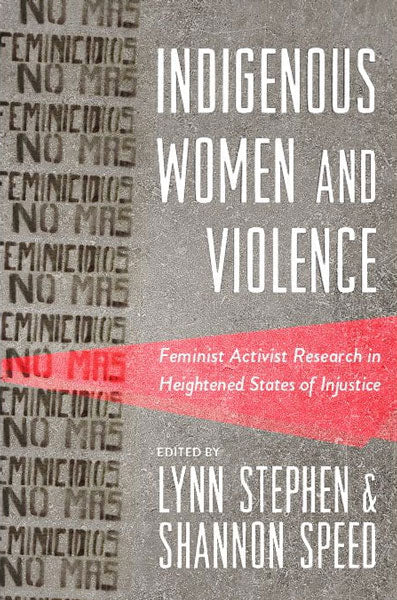 Indigenous Women and Violence: Feminist Activist Research in Heightened States of Injustice
Paperback
University of Arizona (2021)
SKU: 9780816539451
Regular price
$35.00
$35.00
Indigenous Women and Violence offers an intimate view of how settler colonialism and other structural forms of power and inequality created accumulated violences in the lives of Indigenous women. This volume uncovers how these Indigenous women resist violence in Mexico, Central America, and the United States, centering on the topics of femicide, immigration, human rights violations, the criminal justice system, and Indigenous justice. Taking on the issues of our times, Indigenous Women and Violence calls for the deepening of collaborative ethnographies through community engagement and performing research as an embodied experience. This book brings together settler colonialism, feminist ethnography, collaborative and activist ethnography, emotional communities, and standpoint research to look at the links between structural, extreme, and everyday violences across time and space.
Indigenous Women and Violence is built on engaging case studies that highlight the individual and collective struggles that Indigenous women face from the racial and gendered oppression that structures their lives. Gendered violence has always been a part of the genocidal and assimilationist projects of settler colonialism, and it remains so today. These structures—and the forms of violence inherent to them—are driving criminalization and victimization of Indigenous men and women, leading to escalating levels of assassination, incarceration, or transnational displacement of Indigenous people, and especially Indigenous women.
This volume brings together the potent ethnographic research of eight scholars who have dedicated their careers to illuminating the ways in which Indigenous women have challenged communities, states, legal systems, and social movements to promote gender justice. The chapters in this book are engaged, feminist, collaborative, and activism focused, conveying powerful messages about the resilience and resistance of Indigenous women in the face of violence and systemic oppression.
Contributors: R. Aída Hernández-Castillo, Morna Macleod, Mariana Mora, María Teresa Sierra, Shannon Speed, Lynn Stephen, Margo Tamez, Irma Alicia Velásquez Nimatuj