The Red Road and Other Narratives of the Dakota Sioux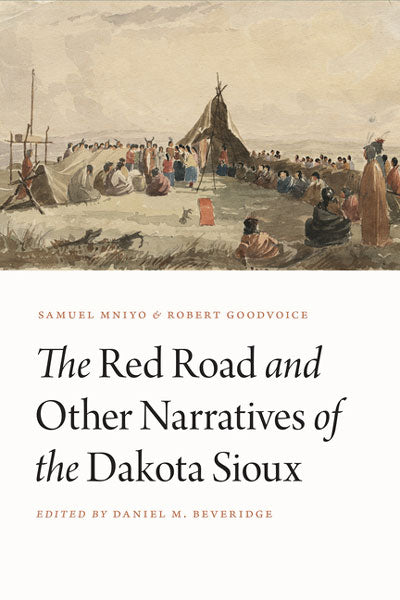 The Red Road and Other Narratives of the Dakota Sioux
Hardcover
University of Nebraska Press (2020)
SKU: 9781496214621
Regular price
$75.00
$75.00
This book presents two of the most important traditions of the Dakota people, the Red Road and the Holy Dance, as told by Samuel Mniyo and Robert Goodvoice, two Dakota men from the Wahpeton Dakota Nation near Prince Albert, Saskatchewan, Canada. Their accounts of these central spiritual traditions and other aspects of Dakota life and history go back seven generations and help to illuminate the worldview of the Dakota people for the younger generation of Dakotas, also called the Santee Sioux.
"The Good Red Road," an important symbolic concept in the Holy Dance, means the good way of living or the path of goodness. The Holy Dance (also called the Medicine Dance) is a Dakota ceremony of earlier generations. Although it is no longer practiced, it too was a central part of the tradition and likely the most important ceremonial organization of the Dakotas. While some people believe that the Holy Dance is sacred and that the information regarding its subjects should be allowed to die with the last believers, Mniyo believed that these spiritual ceremonies played a key role in maintaining connections with the spirit world and were important aspects of shaping the identity of the Dakota people.
In The Red Road and Other Narratives of the Dakota Sioux, Daniel Beveridge brings together Mniyo and Goodvoice's narratives and biographies, as well as songs of the Holy Dance and the pictographic notebooks of James Black (Jim Sapa), to make this volume indispensable for scholars and members of the Dakota community.