Earthworks Rising: Mound Building in Native Literature and Arts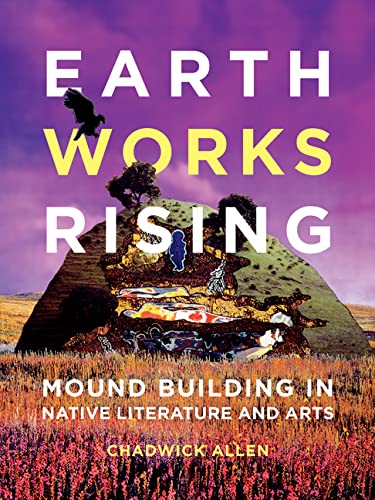 Earthworks Rising: Mound Building in Native Literature and Arts
Paperback
University of Minnesota Press (2022)
SKU: 9781517912338
Regular price
$34.95
$34.95
A necessary reexamination of Indigenous mounds, demonstrating their sustained vitality and vibrant futurity by centering Native voices.
Typically represented as unsolved mysteries or ruins of a tragic past, Indigenous mounds have long been marginalized and misunderstood. In Earthworks Rising, Chadwick Allen issues a compelling corrective, revealing a countertradition based in Indigenous worldviews. Alongside twentieth- and twenty-first-century Native writers, artists, and intellectuals, Allen rebuts colonial discourses and examines the multiple ways these remarkable structures continue to hold ancient knowledge and make new meaning--in the present and for the future.
Earthworks Rising is organized to align with key functional categories for mounds (effigies, platforms, and burials) and with key concepts within mound-building cultures. From the Great Serpent Mound in Ohio to the mound metropolis Cahokia in Illinois to the generative Mother Mound in Mississippi, Allen takes readers deep into some of the most renowned earthworks. He draws on the insights of poets Allison Hedge Coke and Margaret Noodin, novelists LeAnne Howe and Phillip Carroll Morgan, and artists Monique Mojica and Alyssa Hinton, weaving in a personal history of earthwork encounters and productive conversation with fellow researchers.
Spanning literature, art, performance, and built environments, Earthworks Rising engages Indigenous mounds as forms of "land-writing" and as conduits for connections across worlds and generations. Clear and compelling, it provokes greater understanding of the remarkable accomplishments of North America's diverse mound-building cultures over thousands of years and brings attention to new earthworks rising in the twenty-first century.