A Concise Dictionary of Minnesota Ojibwe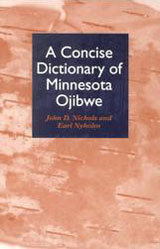 A Concise Dictionary of Minnesota Ojibwe
Illustrated by Earl Nyholm
Paperback
University of Minnesota (1995)
SKU: 9780816624287
Regular price
$16.95
$16.95
The most up-to-date resource for those interested in the linguistic and cultural heritage of the Anishinaabe, A Concise Dictionary of Minnesota Ojibwe contains more than 7,000 of the most frequently used Ojibwe words. Presented in Ojibwe-English and English-Ojibwe sections, this dictionary spells words to reflect their actual pronunciation with a direct match between the letters used and the speech sounds of Ojibwe. It contains many ancient words and meanings as well as language added in the twentieth century.
Most entries give several sample inflected forms such as the plural, diminutive, and locative forms of nouns and first person and participle forms of verbs. The basic patterns of Ojibwe word structure and the organization of the dictionary entries are clearly explained in the introduction. The most widely used modern standard writing system for Ojibwe is used throughout, and some of the key objects of Ojibwe life are authentically illustrated by coauthor and artist Earl Nyholm.
Acknowledged as one of the three largest Native American languages, Ojibwe is spoken in many local varieties in the Upper Midwest and across Central and Eastern Canada. Minnesota Ojibwe is spoken in Central and Northern Minnesota, and is very similar to the Ojibwe spoken in the Ontario-Minnesota border region, Wisconsin, and Michigan's Upper Peninsula. A Concise Dictionary of Minnesota Ojibwe is an essential reference for all students of Ojibwe culture, history, language, and literature.