Marie Mason Potts: The Lettered Life of a California Indian Activist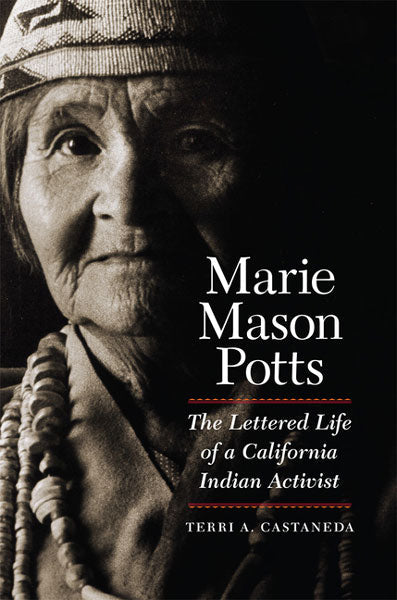 Marie Mason Potts: The Lettered Life of a California Indian Activist
Paperback
University of Oklahoma Press (2022)
SKU: 9780806185156
Regular price
$24.95
$24.95
Born in the northern region of the Sierra Nevada mountains, Marie Mason Potts (1895-1978), a Mountain Maidu woman, became one of the most influential California Indian activists of her generation. In this illuminating book, Terri A. Castaneda explores Potts's rich life story, from her formative years in off-reservation boarding schools, through marriage and motherhood, and into national spheres of Native American politics and cultural revitalization.
During the early twentieth century, federal Indian policy imposed narrow restrictions on the dreams and aspirations of young Native girls. Castaneda demonstrates how Marie initially accepted these limitations and how, with determined resolve, she broke free of them. As a young student at Greenville Indian Industrial school, Marie navigated conditions that were perilous, even deadly, for many of her peers. Yet she excelled academically, and her adventurous spirit and intellectual ambition led her to transfer to Pennsylvania's Carlisle Indian Industrial School..
After graduating in 1915, Marie Potts returned home, married a former schoolmate, and worked as a domestic laborer. Racism and socioeconomic inequality were inescapable, and Castaneda chronicles Potts's growing political consciousness within the urban milieu of Sacramento. Against this backdrop, the author analyzes Potts's significant work for the Federated Indians of California (FIC) and her thirty-year tenure as editor and publisher of the Smoke Signal newspaper..
Potts's voluminous correspondence documents her steadfast conviction that California Indians deserved just compensation for their stolen ancestral lands, a decent standard of living, the right to practice their traditions, and political agency in their own affairs. Drawing extensively from this trove of writings, Castaneda privileges Potts's own voice in the telling of her story and offers a valuable history of California Indians in the twentieth century.