Tushpa's Story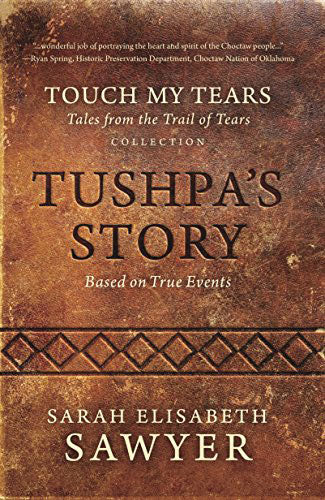 Tushpa's Story
Paperback
Rockhaven (2016)
SKU: 9780991025930
Regular price
$13.95
$13.95
"Protect the book as you do our seed corn. We must have both to survive."
The Treaty of Dancing Rabbit Creek changed everything. The Choctaw Nation could no longer remain in their ancient homelands.
Young Tushpa, his family, and their small band embark on a trail of life and death. More death than life lay ahead. On their journey to a new homeland, the faith of his father and one book guide Tushpa as he learns what it means to become a man and a leader. But before long, betrayal from within and without rip at the unity of the band. Can Tushpa help keep his tattered people together? Or will they all be lost to sickness of the mind, body, and spirit on the four hundred mile walk?
A continuation of the anthology Touch My Tears: Tales from the Trail of Tears, this story follows an original manuscript written by Tushpa's son, James Culberson.
"As the great-granddaughter of Tushpa, a boy on the Trail of Tears, I grew up far away from Oklahoma with little knowledge of our history. It is through reading the moving stories collected by Sarah Elisabeth Sawyer that I have a better understanding of the struggles, endurance and bravery of our Choctaw ancestors." Beverly Bringle, direct descendant