Speak Lakota! Level 5: Textbook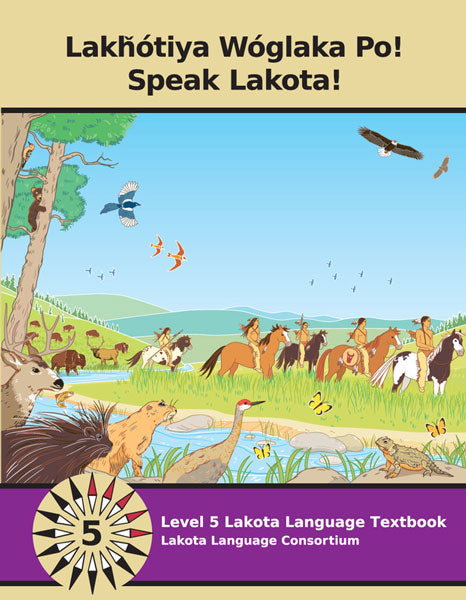 Speak Lakota! Level 5: Textbook
Paperback
Lakota Language Consortium (2014)
SKU: 9780983436300
Regular price
$39.95
$39.95
Lakhótiya Wóglaka Po! - Speak Lakota! is a Lakota language textbook designed for elementary school use and self-study. Developed by leading Lakota language authorities and linguists, the textbook is the first linguistically and pedagogically consistent textbook in Lakota and the start of the series. It features a detailed teacher's guide; which incorporates all major vocabulary variants, numerous lesson activities and games while contextualizing the vocabulary though images and illustrations.
The Level 5 Textbook is the latest and most advanced edition of the Speak Lakota! series. It reviews and builds on vocabulary from Levels 1-4, while expanding into more complex grammatical areas. The Level 5 is a continuation of the style and communicative language approach of the Level 4 textbook. It helps the student not merely know the language through rote memorization of patterns, but through encouraging a process of discovery that internalizes the languages into the student's active language framework.
12 colorful, well-designed Units – including "Finding the Magic Moccasins" , "The Camp on the Move", and "Buffalo Hunt."
- A full year of instruction.
- Updated layout and artwork- even more engaging
- Many new activities based on traditional cultural themes.
- Promotes conversational Lakota using Communicative Language techniques.
- Sequenced with Levels 1-4 vocabulary, lessons, and characters.
- Prepares students for Level 6 and intermediate- level proficiency.
- Many new stories, games, comic pages, and a 1,553-word Glossary.
- Great for adult self-study too!
Overall, the Level 5 is the latest in a rigorously designed sequence of instruction that intends for students to achieve language proficiency after mastering Level 5.