Speak Lakota! Level 4: Teacher's Guide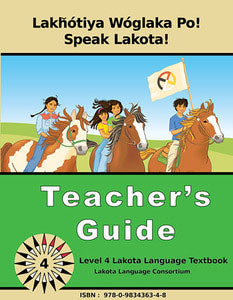 Speak Lakota! Level 4: Teacher's Guide
Paperback
Lakota Language Consortium (2012)
SKU: 9780983436348
Regular price
$39.95
$39.95
The Level 4 Teacher's Guide outline's each unit with an overview box, and step-by-step instructions for modelling and presenting the materials. Activities and games are clearly outlined. The Guide will help you prepare for lessons- making your job easier and classroom time more effective.
See also the Level 4 Student Textbook and Level 4 Companion Audio CD.
Lakhótiya Wóglaka Po! - Speak Lakota! is a Lakota language textbook designed for elementary school use and self-study. Developed by leading Lakota language authorities and linguists, the textbook is the first linguistically and pedagogically consistent textbook in Lakota and the start of the series. It features a detailed teacher's guide; which incorporates all major vocabulary variants, numerous lesson activities and games while contextualizing the vocabulary though images and illustrations.
The Level 4 Textbook is the latest and most advanced edition of the Speak Lakota! series. It reviews and builds on vocabulary from Levels 1-3, while expanding into more complex grammatical areas. The Level 4 is a departure from previous textbooks in that it is designed solely on communicative language principles. It helps the student not merely know the language through rote memorization of patterns, but through encouraging a process of discovery that internalizes the languages into the student's active language framework.
- 10 colorful, well-designed Units
- A full year of instruction.
- Updated layout and artwork- even more engaging.
- Promotes conversational Lakota using Communicative Language techniques.
- Integrated listening exercises for use with Level 4 Audio CD (available separately).
- Many new stories, games, comic pages, and a 1,258 word Glossary.
- Great for adult self-study too
Many new activities based on traditional cultural themes. Including:
- Horse Care, Horse Body Parts, Riding Gear, Colors of Horses
- Hunting, Fishing and Camping, Pet Care
- Vision Quest, Camping
- Grandpa's War
- Hunting Adventure
- Vision Quest, Dance Contest
- Giving Directions, Important Places Around Town, Visiting People
- Trees and the Usage of Trees in Lakota Tradition
- Making Helpful Suggestions, Describing Animals and Their Body Parts
- Describing Body Parts and Animals
- Sharing and Taking Things
- Goes to Town
- Iktómi Wants to Make Arrows
- Storytime with Grandpa
- The Porcupine and Its Uses in Lakota Tradition