Speak Lakota! Level 3: Teacher's Guide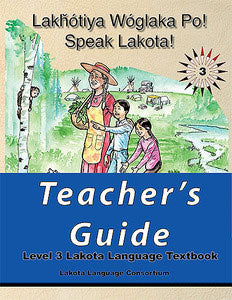 Speak Lakota! Level 3: Teacher's Guide
Paperback
Lakota Language Consortium (2010)
SKU: 9780983436331
Regular price
$39.95
$39.95
The level 3 Teacher's Guide is a required instructional component of the Level 3 materials. It allows the teacher to prepare and clearly deliver each unit's lesson and activities, and to evaluate each student's work and progress.
See also the Level 3 Student Textbook and Level 3 Companion Audio CD
Lakhótiya Wóglaka Po! - Speak Lakota! is a Lakota language textbook designed for elementary school use and self-study. Developed by leading Lakota language authorities and linguists, the textbook is the first linguistically and pedagogically consistent textbook in Lakota and the start of the series. It features a detailed teacher's guide; which incorporates all major vocabulary variants, numerous lesson activities and games while contextualizing the vocabulary though images and illustrations.
The Level 3 is produced to the highest methodological and linguistic standards- allowing students to achieve the next great leap forward in language learning. Plus, the Level 3 has many important new features:

- Promotes conversational Lakota using proven Communicative Language techniques;
- 10 Units designed to teach language through familiar and fun contexts;
- Fully-integrated Audio CD and detailed Teacher's Guide (available separately);
- Over 500 new vocabulary items and supporting glossary;
- Wide variety of fun activities and exercises including four pages of stickers!