Creative Alliances: The Transnational Designs of Indigenous Women's Poetry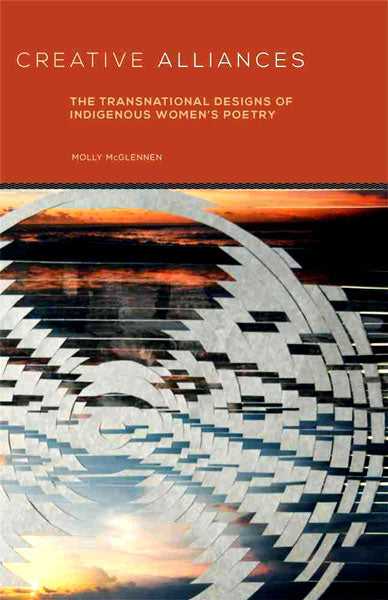 Creative Alliances: The Transnational Designs of Indigenous Women's Poetry
Paperback
University of Oklahoma Press (2014)
SKU: 9780806144825
Regular price
$24.95
$24.95
Tribal histories suggest that Indigenous peoples from many different nations continually allied themselves for purposes of fortitude, mental and physical health, and creative affiliations. Such alliance building, Molly McGlennen tells us, continues in the poetry of Indigenous women, who use the genre to transcend national and colonial boundaries and to fashion global dialogues across a spectrum of experiences and ideas.
One of the first books to focus exclusively on Indigenous women's poetry, Creative Alliances fills a critical gap in the study of Native American literature. McGlennen, herself an Indigenous poet-critic, traces the meanings of gender and genre as they resonate beyond nationalist paradigms to forge transnational forms of both resistance and alliance among Indigenous women in the twenty-first century.
McGlennen considers celebrated Native poets such as Kimberly Blaeser, Ester Belin, Diane Glancy, and Luci Tapahonso, but she also takes up lesser-known poets who circulate their work through social media, spoken-word events, and other -nonliterary- forums. Through this work McGlennen reveals how poetry becomes a tool for navigating through the dislocations of urban life, disenrollment, diaspora, migration, and queer identities. McGlennen's Native American Studies approach is inherently interdisciplinary. Combining creative and critical language, she demonstrates the way in which women use poetry not only to preserve and transfer Indigenous knowledge but also to speak to one another across colonial and tribal divisions. In the literary spaces of anthologies and collections and across social media and spoken-word events, Indigenous women poets are mapping cooperative alliances. In doing so, they are actively determining their relationship to their nations and to other Indigenous peoples in uncompromised and uncompromising ways.