THIS IS DISPLACEMENT: Exhibition Catalogue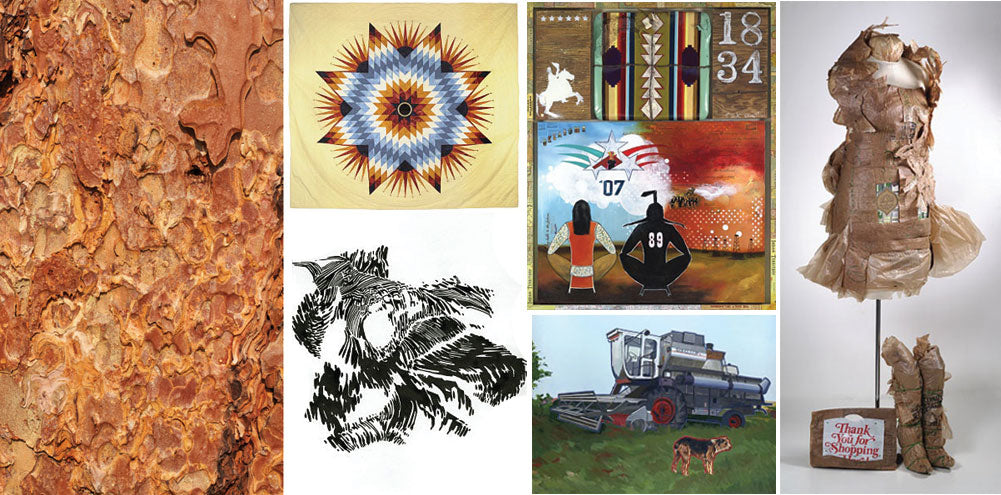 THIS IS DISPLACEMENT: Exhibition Catalogue
Paperback
Emily Johnson/Catalyst (2011)
SKU: TID
Regular price
$20.00
$20.00
Native Artists Consider the Relationship Between Land and Identity
We made this book to celebrate the artists and artworks of the touring exhibit THIS IS DISPLACEMENT. 31 artists! 40 artworks! 8 languages! Published by Birchbark Books' own Emily and Carolyn.
From the Introduction:
THIS IS DISPLACEMENT is a visual art exhibit considering displacement, land, and identity. It was created over the course of two years and a couple thousand miles. It started small. At our first opening in Anchorage, Alaska, THIS IS DISPLACEMENT consisted of ten works. But as the exhibit toured — to Oklahoma — to Minnesota, it gained momentum and grew, and along with our connection to artists all over the country, THIS IS DISPLACEMENT now features the work of forty-six Native American and Alaska Native artists from nineteen tribal traditions across the United States of America.
We are inspired by the potency of these images and stories. This catalogue celebrates these artists, their artworks, and their words on the effects, ills, joys, discomforts, and never-ending complexities of displacement.
As curators, we want to offer many perspectives, stories, and images of displacement. We define displacement broadly, as every person has a unique, complex, and varied relationship to it. We honor each artist's particular view in relation to life, land, culture, and identity. We are challenged and strengthened by these works.
We are committed to offering a multi-lingual text and owe a huge gratitude to the translators who worked with us. Our Native languages redress colonization and bring us to the present: our speech, our words, our cultures, our way of being. Through the artwork and the language in this catalogue we are connected to displacement of the past, present, and future. Quyana and Ahe'hee to the artists and to you.
- Emily and Carolyn
List of artists in the exhibit catalogue: Joseph J. Allen, Judith Allen, Carolyn Lee Anderson, Jay Bad Heart Bul, Andrea Carlson, Colleen Casey, Gordon M. Coons, Elizabeth Day, Jim Denomie, Heid E. Erdrich, Tom Fields, Joe Geshick, Shan Goshorn, Brent Greenwood, Kennetha Greenwood and Kimberly Rodriguez, Priscilla Naungagiaq Hensley Holthouse, Charles Her Many Horses, Daktoa Hoska, Emily Johnson, Sonya Kelliher-Combs, Douglas K. Limon, Carter Meland, America Meredith, Melissa Olson, Steven Premo, Mona Smith, Jonathan Thunder, Robert W. Two Bulls, Star Wallowing Bull, Gwen Westerman, Wilma Whitaker