The Sky Watched: Poems of Ojibwe Lives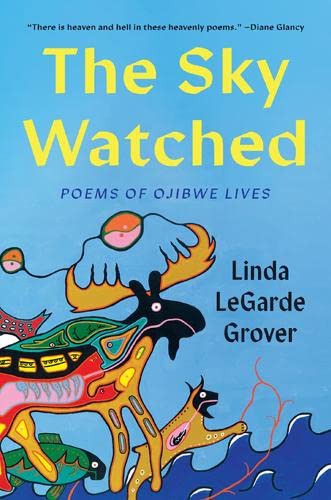 The Sky Watched: Poems of Ojibwe Lives
Paperback
University of Minnesota Press (2022)
SKU: 9781517914516
Regular price
$15.95
$15.95
A collective memoir in poetry of an Ojibwe family and tribal community, from creation myth to this day, updated with new poems.
Reaching from the moment of creation to the cry of a newborn, The Sky Watched gives poetic voice to Ojibwe family life. In English and Ojibwe, those assembled here--voices of history, of memory and experience, of children and elders, Indian boarding school students, tribal storytellers, and the Manidoog, the unseen beings who surround our lives--come together to create a collective memoir in poetry as expansive and particular as the starry sky.
This world unfolds in the manner of traditional Ojibwe storytelling, shaped by the seasons and the stages of life, marking the significance of the number four in the Ojibwe worldview. Summoning spiritual and natural lore, award-winning poet and scholar Linda LeGarde Grover follows the story of a family, a tribe, and a people through historical ruptures and through intimate troubles and joys--from the sundering of Ojibwe people from their land and culture to singular horrors like the massacre at Wounded Knee to personal trauma suffered at Indian boarding schools. Threaded throughout are the tribal traditions and knowledge that sustain a family and a people through hardship and turmoil, passed from generation to generation, coming together in the manifold power and beauty of the poet's voice.