A Collection of Lakota Children's Songs Vol 2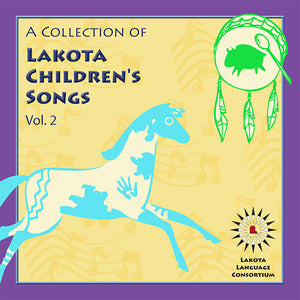 A Collection of Lakota Children's Songs Vol 2
Audio CD
Lakota Language Consortium (2012)
SKU: 9780982110799
Regular price
$14.95
$14.95
The second volume of Lakota Children's Song includes such favorites as: Lakota versions of Little Cabin, London Bridge, Happy Birthday, Head Shoulder Knees and Toes, and many more. This is a great collection- and a great way to learn the language. Use in the classroom or at home.
12 great new songs:
1. Iyonikphi heci nape glaskapa! - If You're Happy and You Know It
2. Igluptanptan Wachi - The Hokey Pokey
3. Naphahunka, Tokhilala? - Where is Thumbkin?
4. Nata, Hinyete, Chankpe, Si - Head, Shoulder, Knees, and Toes
5. Cheyagthunpi Hinhpaye - London Bridge
6. Nitha-anpetu Waste - Happy Birthday
7. Chanthipi Wan, Chanmahel - Little Cabin in the Woods
8. Wana Hinhanni - Morning Has Broken
9. Nistinme...Hantans...Wiyahanblin kte lo - All the Pretty Little Horses
10. Ochile - I'm Looking for You
11. Amu, amu - Sleep Little Doll
12. Wanzi, Nunpa; Nuphin Manipi - One Two; Buckle my Shoe

Includes an 8-Page booklet with song lyrics- great for singing along and learning.